Very few things are as exciting as visiting a city for the first time, especially when you're a beer fanatic and the city is Denver. Colorado has been an absolute breeding ground for the craft beer industry, providing the nation with some of the first dedicated beer bars and independent breweries in the post-prohibition era. Imagine my excitement when Alex Wiessner of Lexa PR invited me to Denver for Great Divide Brewing's summer block party, courtesy of Visit Denver.
The block party was scheduled for Saturday, July 8th and I arrived in Denver early that morning, picked up my rental car and headed to the downtown area to meet my friend Tricia who had flown in the prior evening to visit friends and join in on the weekend's shenanigans. I found Tricia in a small coffee shop called Little Owl propped in front of her laptop. We both prepared our bodies with the caffeine necessary to approach a jam packed weekend of block partying and brewery hopping prior to heading out to Great Divide's "Not an Anniversary Party-Party."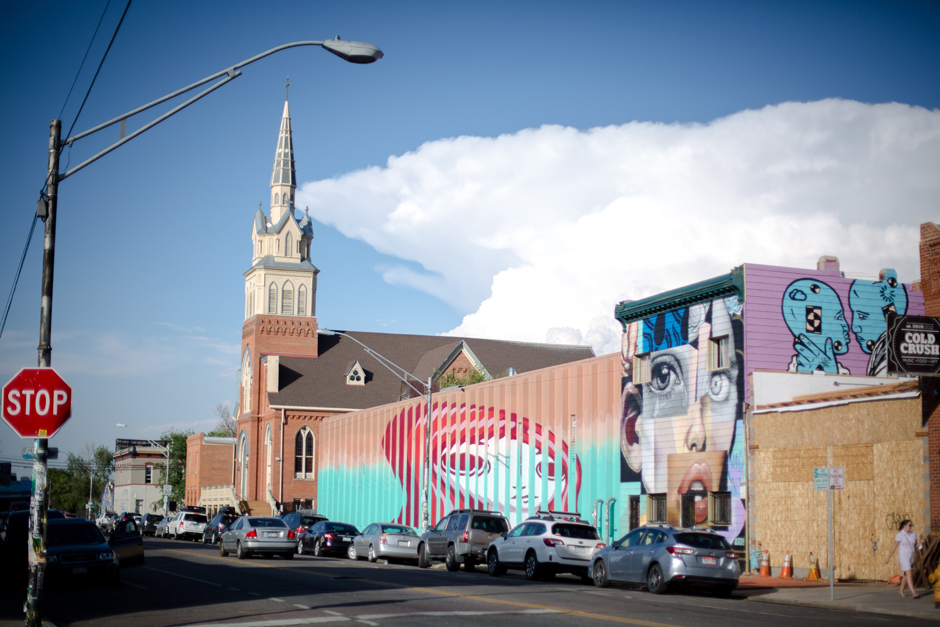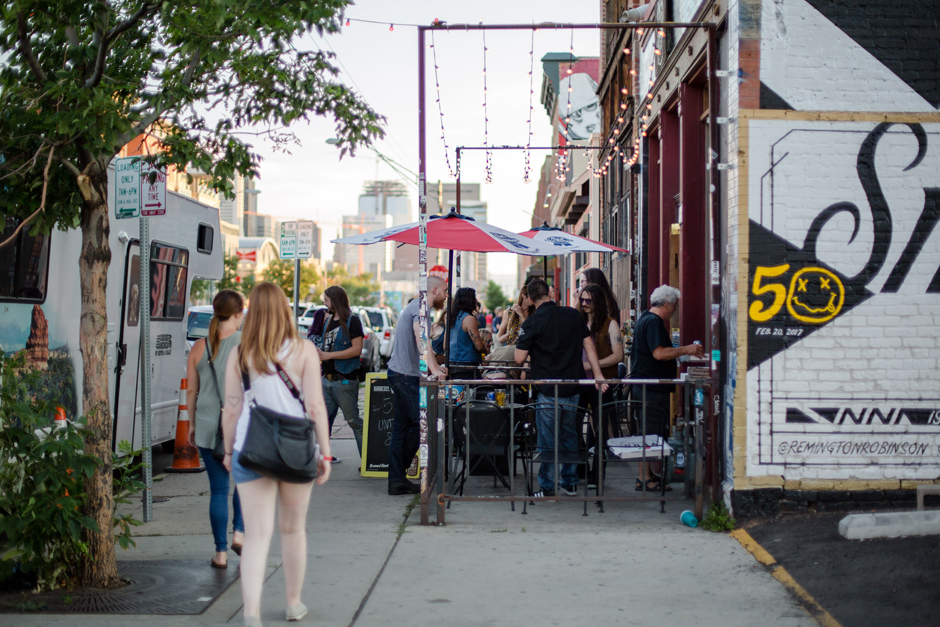 After hitting up River North Brewing and TRVE's taproom, we stopped at City O City, a very chill restaurant with a diner feel that offered up a quick lunch to build a nice base for the rest of the days libations. With our tab settled, we headed downtown to the Square on 21st, a brand new urban green space where Great Divide would hold the festivities.
While walking from my hotel to the party, I couldn't help but notice the way the vibrant colors of the street art adorning the Larimer street corridor contrasted starkly against Denver's skyline, built in matte browns and grays with architecture most certainly coming from the 70s. New restaurants, bars and breweries were lined up densely along the stretch of road, brimming with people on patios, rooftops, enjoying the summer afternoon. This city is poised to make the jump from sleepy mid-sized city to a hub of craft and culture.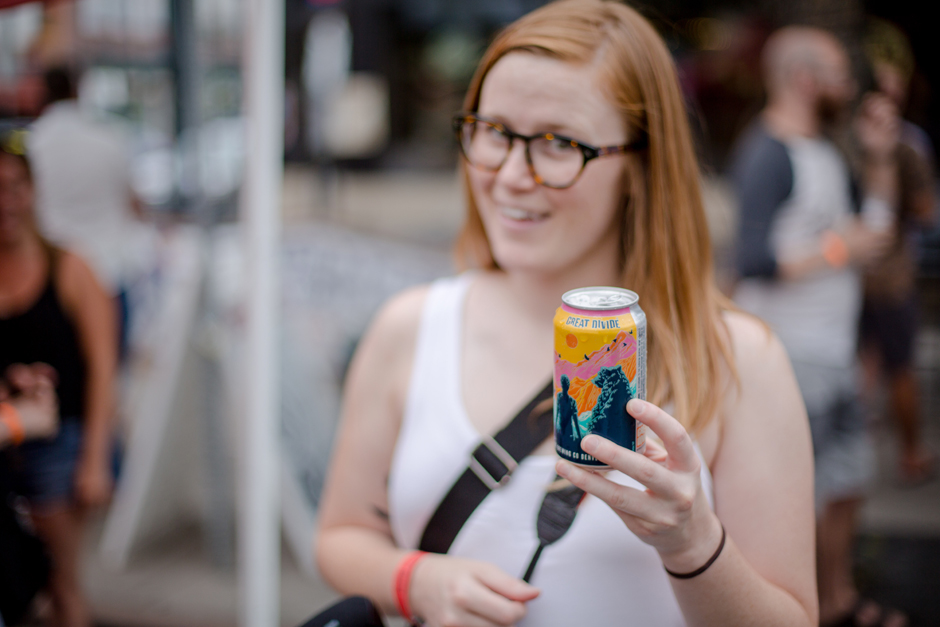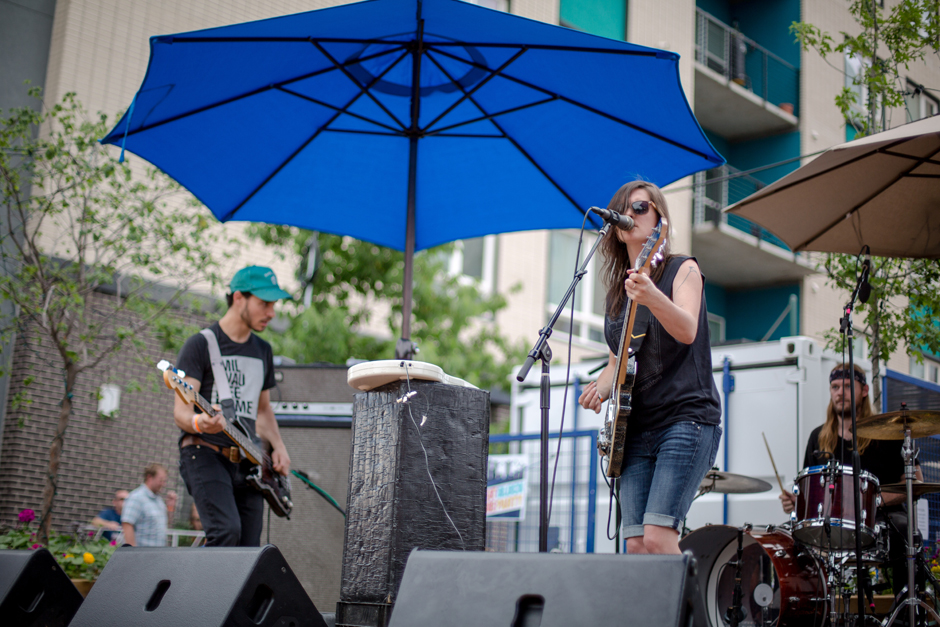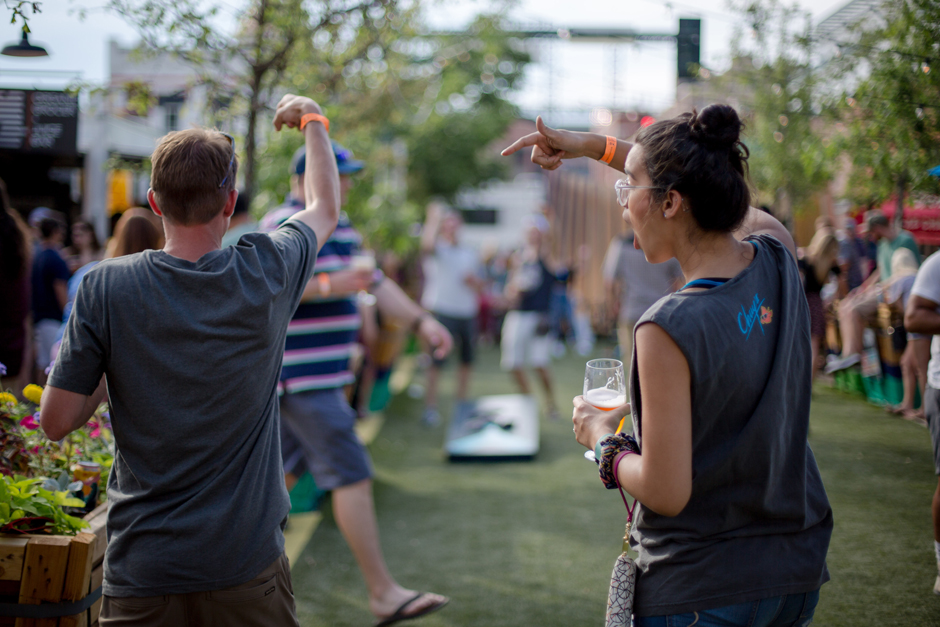 By the time we got to the entrance, the party was already hopping. As I checked in and walked through the wooden sculptured gates, I was handed a full can of Great Divide's Denver Pale Ale with an enthusiastic "Welcome!" And quick orientation of the party. There's not a single APA that lasts long in my hands; it quickly disappeared as Tricia and I gravitated towards the sound of live music. A band called "The Still Tide," an indie rock band based in Denver, was in the middle of their set. We watched them finish up and managed to talk to lead singer, Anna Morsett, for a few minutes to let her know we really enjoyed their sound. There's something about local bands and their approachability that reminds me of small craft breweries and their eagerness to connect with their fanbase.
Not long after, I was cracking open a can of Colette farmhouse ale. Colette was a beer I began drinking when I first moved to Chicago in 2007; a time when the craft bug had only begun to hit the city. It's a bit of an OG for me; a farmhouse that introduced me to the realm of this wonderfully nuanced, flavorful and drinkable style of beer. I hadn't had one in a long time and I was reminded why I had been enamored in the first place. Colette tastes just as I remembered and I was suddenly reminded I would be able to try it fresh from the source on a future tour of Great Divide's new packaging facility later that weekend. I was officially giddy.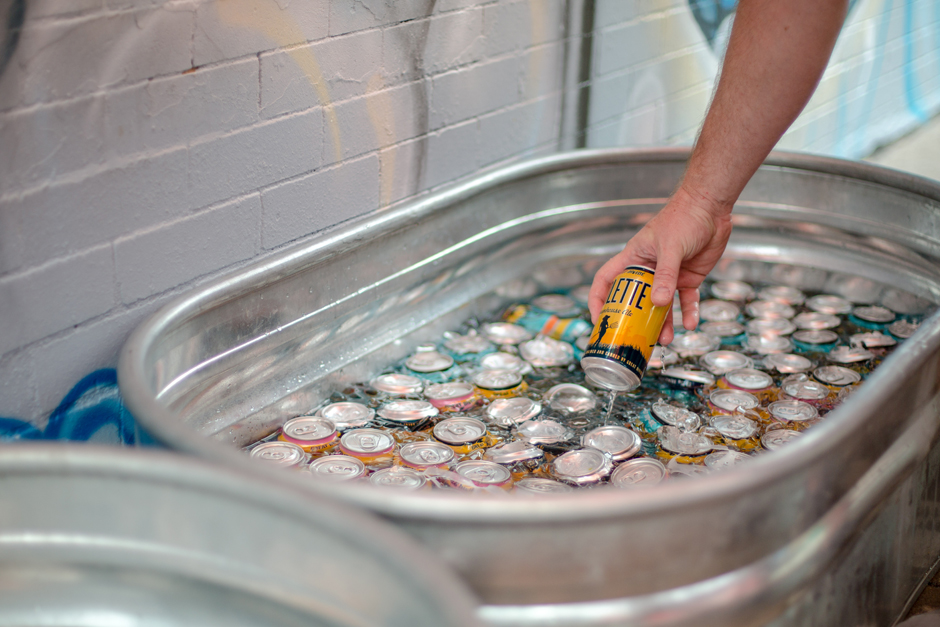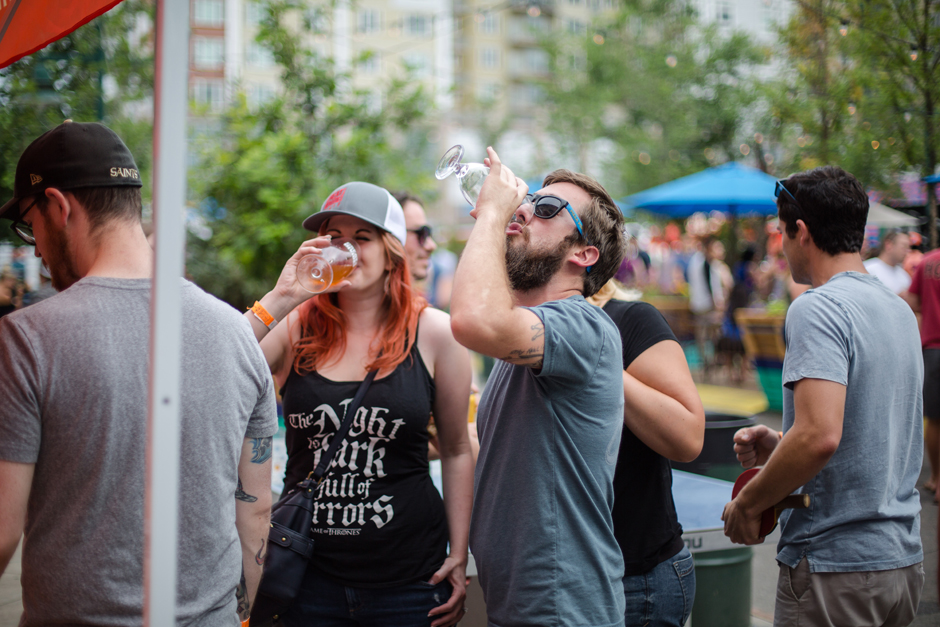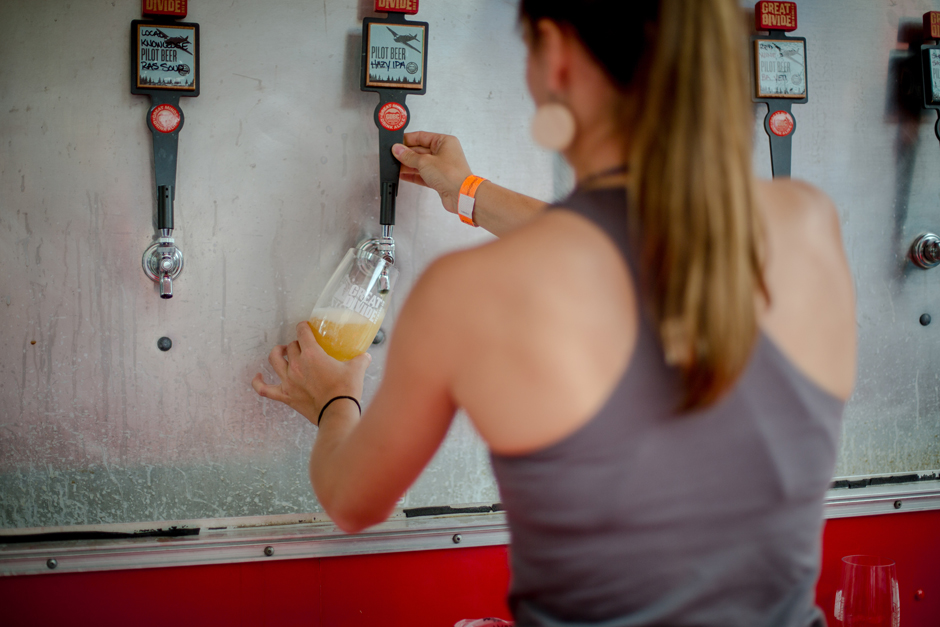 Tricia and I walked around the square for the duration of the block party. We ignored sage advice from our childhood and talked to strangers and learned that a lot of people from the Midwest move to Denver. I mean a lot. We watched a few lazy games of bags and managed to sample more beers that Great Divide has to offer. With so much beer being produced locally all over the country, it's hard to prioritize trying beer from elsewhere, which made discovering what they been doing that's new or not in distribution, quite fun.
Once the party wrapped up, Alex took us to a handful of establishments nearby that included a cidery called "Stem," an impressive (but utterly overrun) pour-your-own-beer joint called "First Draft" and finally to dinner. I'd be lying if I said things didn't get fuzzy around the time I finished a glass of bourbon barrel-aged cider at Stem. My level of intoxication was confirmed both in the complete lack of focus in the photos I managed to take for the remainder of the evening, and drunken Instagram stories that include the decimation of a complimentary cheese plate and the misuse of the prefix "Mr." in a welcome note from the hotel addressed to me. I typically prefer "Ms."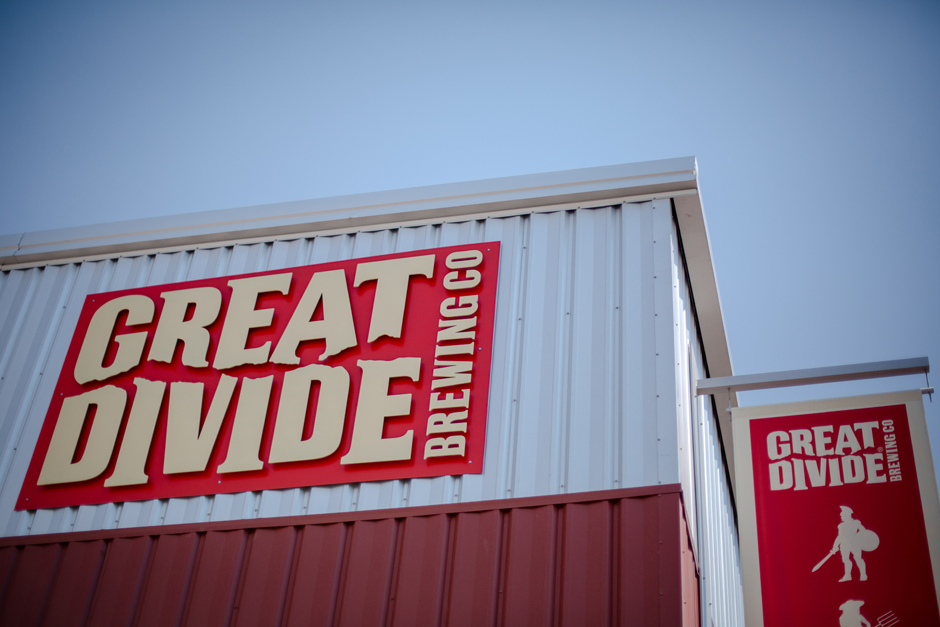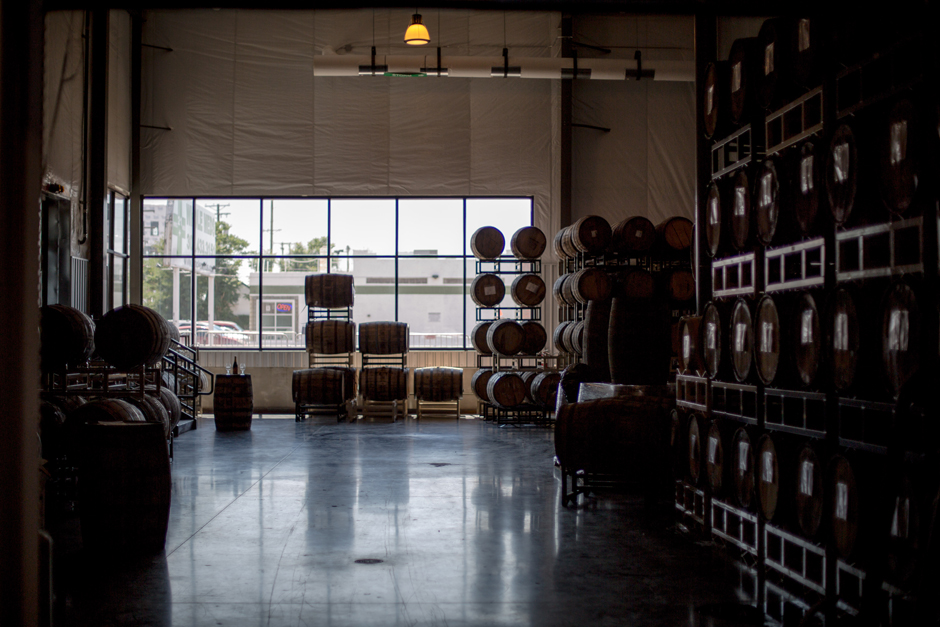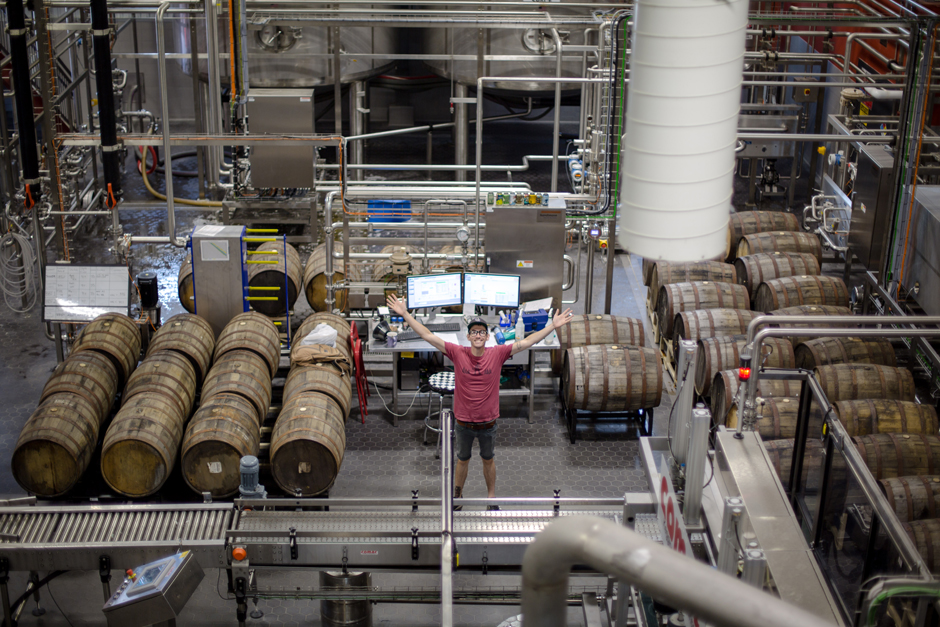 Fast forward to Monday late morning. It's been a hell of a weekend and I'm in the final stretch of my time in Denver. But first, it's time to visit Great Divide's new(ish) packaging facility and Barrel Bar in the RiNo neighborhood, my 12th brewery stop since Saturday afternoon. Opened in 2015, the packaging facility was built in order to alleviate space and capacity issues at the original brew house. The sheer size in comparison to their current output indicates Great Divide's big plans for expansion and growth.
Great Divide opened in 1994 and due to their 23-year existence and recognition as an early craft producer around the country (and incubator for several current brewers in Denver), are often mistaken for a brewery much bigger than they truly are. "Our operation is still divided with the brewing taking place down the road and the packing here. But this building is huge! That's why people think we're a massive brewery," states Maureen Cherrett, communications coordinator for the brewery. "We definitely built this facility to grow into. We're not using it to fill capacity, it's for future growth."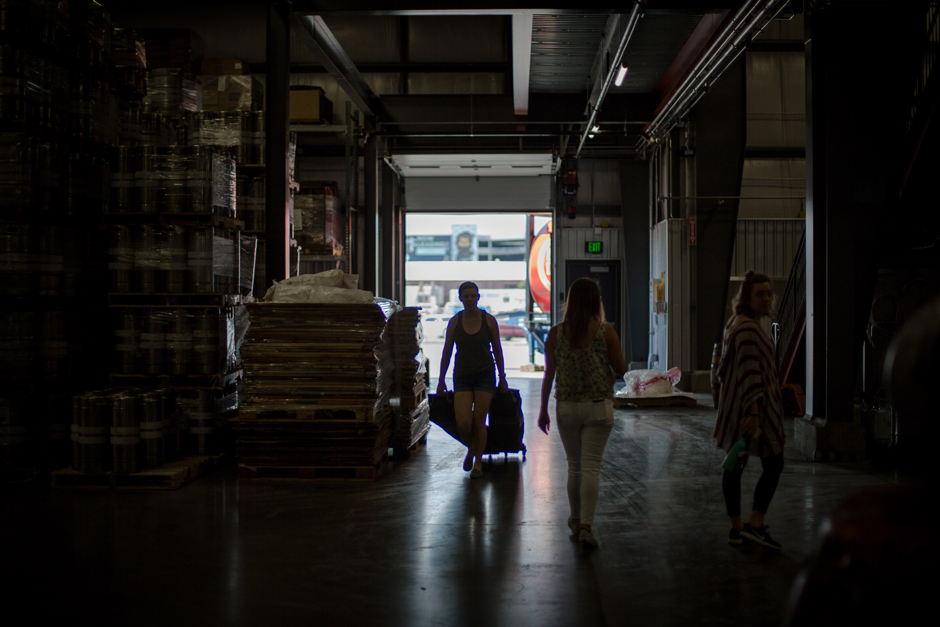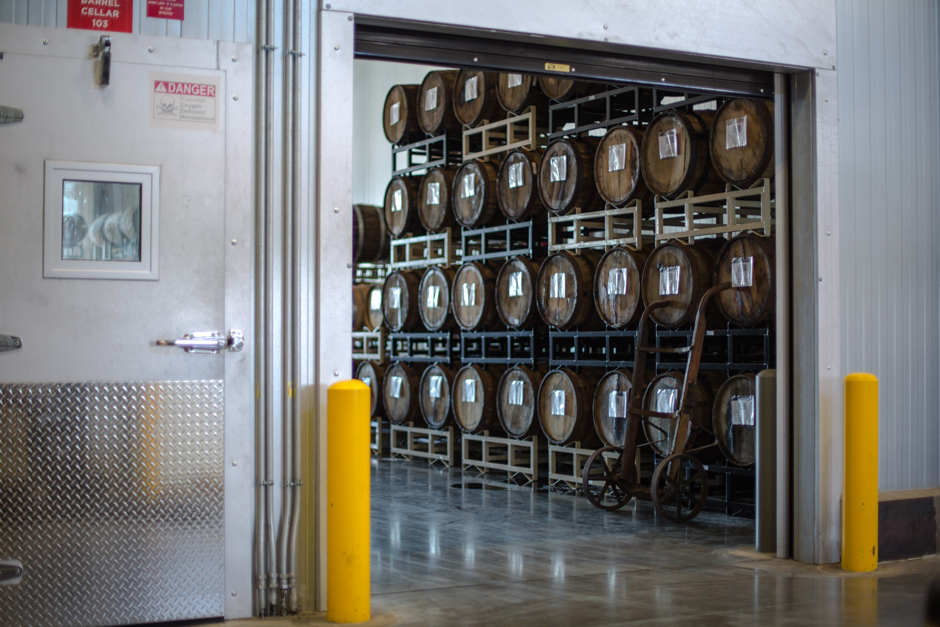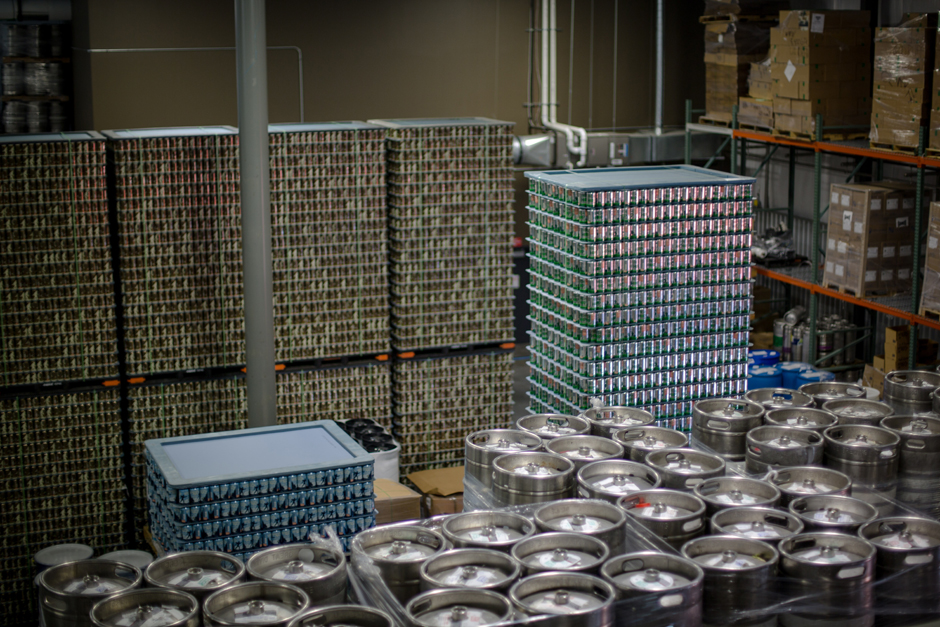 The new facility includes a new state-of-the art packaging line and sits on five acres of mostly undeveloped land right on the South Platte River; just one-and-a-half miles away from their original brewery and taproom. Both locations are vital to overall operation as the smaller, original brewery is still where all of their beer is brewed.
"We transport all of our beer from the brewery in a tanker and then fill the tanks here. Then the beer is either transferred through pipes into kegs or it runs over to the canning line. We still bottle at the original brew house, we only can and keg here," says Maureen. "This canning line cans about 360 cans per minute. It's not always running because if it was we'd have way too much beer on hand."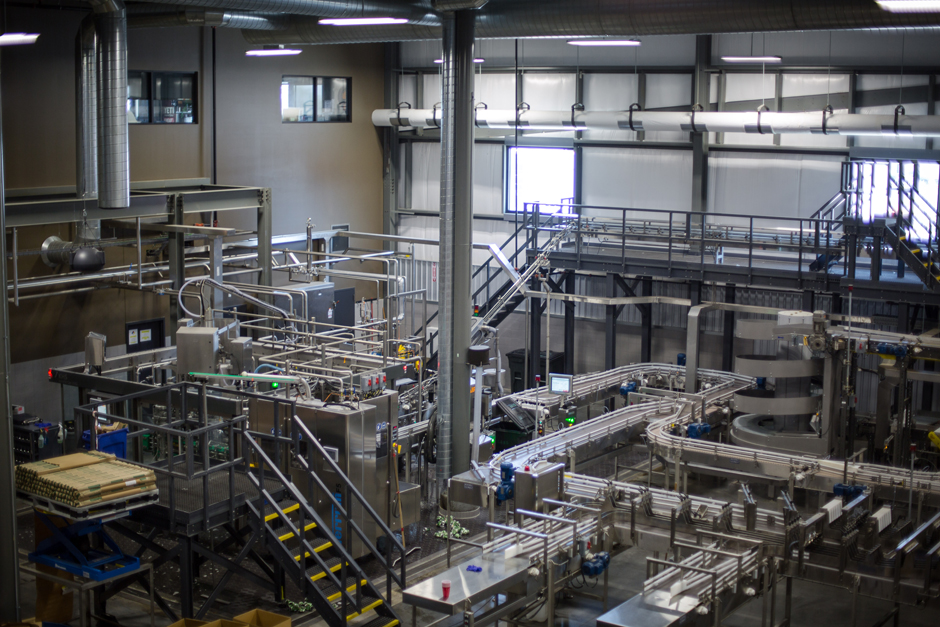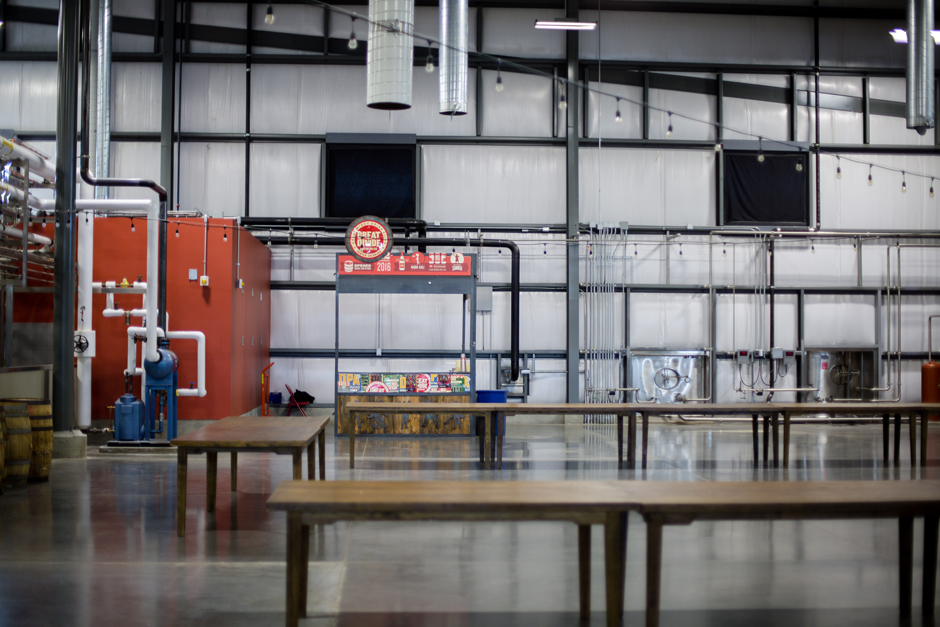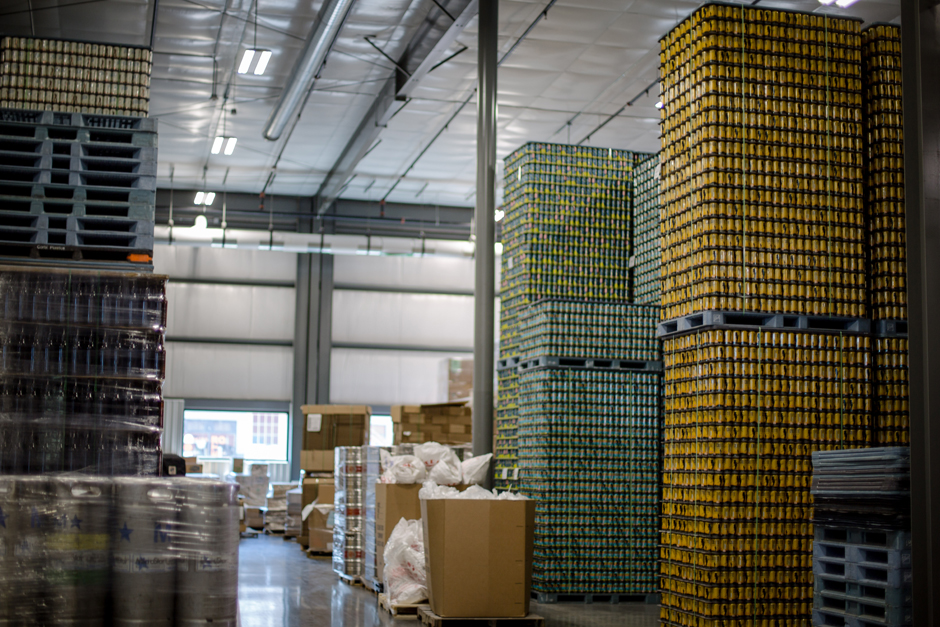 I'm staring down at the canning line from a walkway high above the ground; it's sprawling and impressive, but the available space that remains among the towers of cans and barrel storage is even more imposing. As Maureen explains it, "This is the space for the future bottling line. The original bottling line is literally built into the old brew house. Moving it would be a lot of work. This packaging facility is only phase one of two phases," she continues.
"The second phase will include a new brewery. We'll start brewing beer over here, open a new private event space, a restaurant and a bigger taproom. The city is also developing the park along the river behind this facility. Eventually, there will be a live music venue and a formal river walk." Maureen adds.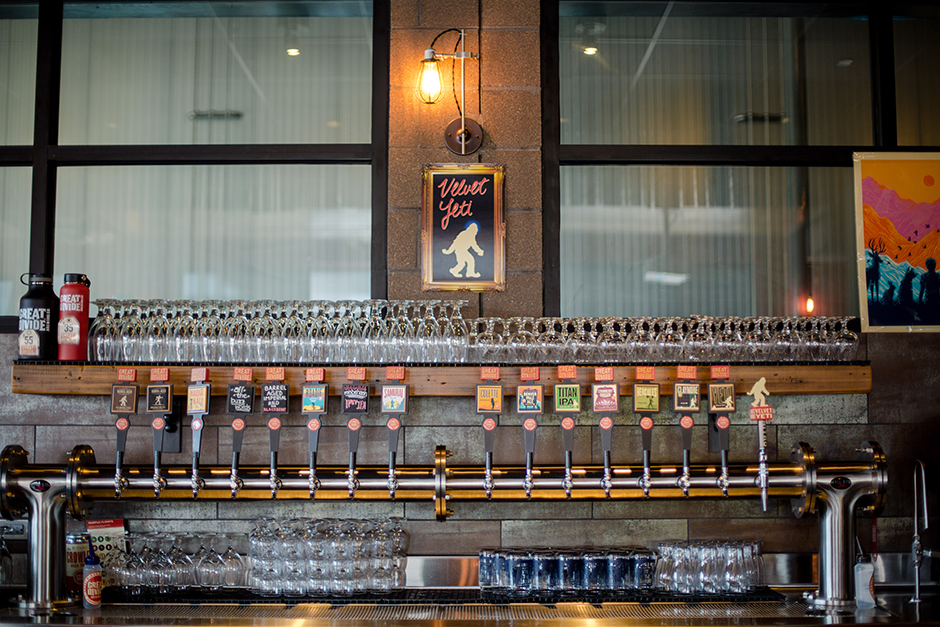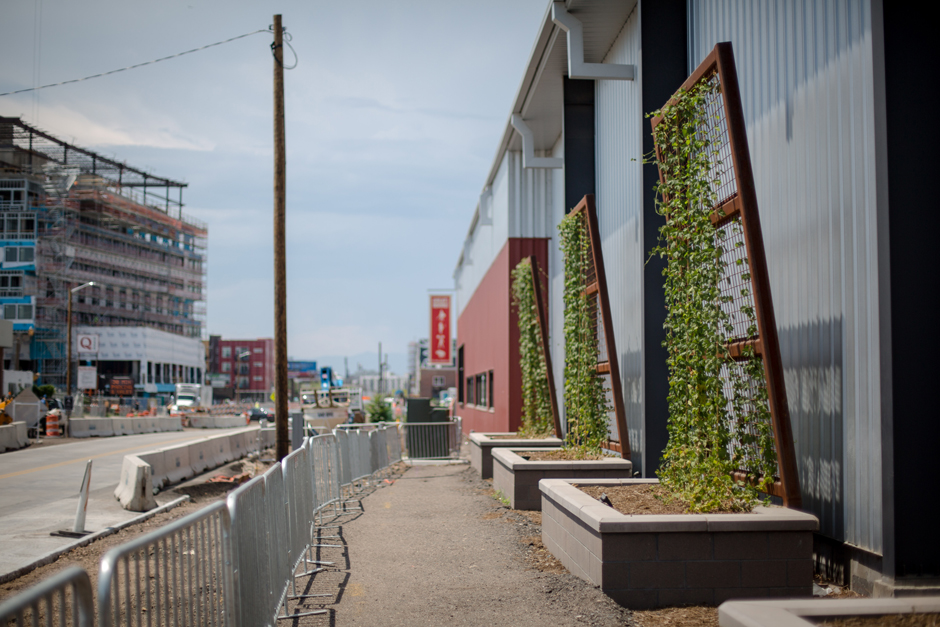 After a quick tour of the facility, we're seated at the bar in the tap room and Maureen is at the handles. I'm quick with my request for some fresh Colette and she continues to pour a few other to sample including an oak-aged Yeti and a fruited ale. For all of the build-up in my head around fresh Colette, it delivered. Fresh farmhouse ale is hard to beat and despite the sheer volume of amazing beer I had tried over the last few days, I was able to experience beer dork nostalgia euphoria.
I left the Barrel Bar after a short visit, not long after some small talk regarding the taproom while developing a slight buzz. It had been my third brewery stop of the day and it was only 2PM. With a lunch planned and a final brewery stop on the books before my afternoon flight back to Chicago looming, I knew I would need another trip to Denver (and Great Divide) to properly appreciate both what the city and the brewery were doing, both as originators and purveyors of craft in Colorado and the country.