It's been fun to see my hometown brewery, Ahnapee Brewery, evolve since they opened in 2013, growing from a very modest but well-executed lineup of traditional styles to some of their more creative, ambitious beers they've been putting out using limited space and equipment. One of those beers being an Imperial Raspberry Ale, aged in wine barrels and the other a Baltic barrel-aged Porter called "The Crooked Hobo." I had picked these up as a last pit stop before returning to Chicago after spending the weekend back visiting family in February. Recently, I found the perfect opportunity to crack them open while working at a friend's apartment on a Friday afternoon.
A town of nearly 3,200 people, Algoma, Wisconsin lacks even a single stop light. Ahnapee itself is small in size, with a taproom that seats about 30 in what used to be a garage with an off-premise facility where they brew a few miles away. Head brewer Nick Calaway opened Ahnapee with the help of the neighboring winery, Von Steihl, in June 2013 after leaving Titletown Brewing about 30 minutes away in Green Bay. Just recently, Nick purchased the brewery outright from the winery, allowing more freedom to fully run Ahnapee to his heart's content.
For about a year, Nick and his team brewed with two 55 gallon pots over direct fire before moving on to a 15 bbl system. Without traditional fermenters, he used 300 gallon plastic totes and controlled temperatures by moving the totes to different "zones" in the cooler. Despite the unorthodox technique, Ahnapee did well enough to win a silver medal at GABF for their Helles Lager called "Long Goodbye" in 2015. Other personal favorites of mine that stand out include their Two Stall Chocolate Milk Stout and their Orange Blossom Ale.
But after sampling the Raspberry Ale and Crooked Hobo, I wanted to learn more about their origin from Nick while also getting a glimpse of how he approaches designing Ahnapee's beer.

Imperial Raspberry Ale: 10% ABV
Loaded with raspberry puree, this pour strikes the right balance that's difficult to find in fruit beers; not too sweet, but slightly tart and fresh tasting.  A strong malt bill and some time spent in wine barrels helps counter the fruit nicely with a smooth texture and light carbonation.
What's the base beer you started with for the raspberry ale?
Nick: With any of our flavored beers, I want it to be "beer first", i.e. our Two Stall Chocolate Milk Stout, I describe as a stout with chocolate. To make this happen with the raspberry brew, I planned for a light-colored beer to showcase the raspberry color, with lots of malt to balance the tart acidity of the raspberries. I used a Maibock malt/hop bill but fermented with an ale yeast to compliment the fruit. The resulting beer, in the Imperial Raspberry's case, is a little more fruit than beer, however I believe the malt backbone does drive the brew with the raspberries and play a good balancing act.
When is the fruit added, during boil or fermentation?
Nick: We used a raspberry puree, which captured the fresh flavors of the raspberry, but was processed enough to hopefully limit our losses from the fruit solids. For this brew we added all of it straight in to the fermenter. One thing that I personally don't typically enjoy about some fruit beers is they are too sweet. Adding it to the fermenter allowed the raspberries to shine, but limited the final sweetness as the yeast ate up all extra sugars. I really wanted a "fresh" raspberry impression which I think would have been lost if it was added to the boil.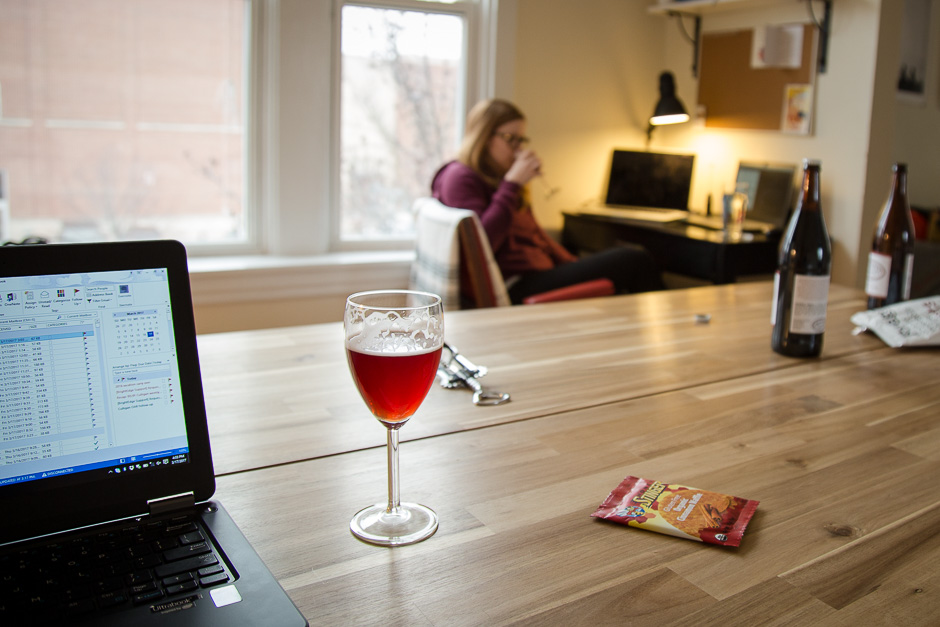 What type of wine barrels were used for aging and for how long did they age?
Nick: We were fortunate that we could plan around Von Stiehl Wineries schedule of emptying their oak aged Framboise barrels the day prior to filling them with our brew. Their Framboise is a brandy fortified raspberry wine and the barrels from the Midwest (blend of American and French oak). Unfortunately, they were pretty neutral when we got them. They ended up imparting a pleasant raspberry wine flavor but not as much oak as I would have hoped for, despite their sit in the barrels for four months.
Will this be a seasonal beer for Ahnapee?
Nick: We try to do one fruited beer a year. With only eight handles at the taproom it's a double-edged sword. We want to have new and exciting beers and when they're well received we want to bring them back but there's only so much room to be had. This years fruited beer with be called "Ahna-Peach." It'll be a kettle soured blonde ale with peaches. We're barrel aging the peaches as we speak, not so much for the oak, but for a controlled oxidation to bring out the ripe peach flavor. I'm really excited for it. So, I guess to answer your question more directly, peaches are the new raspberry at Ahnapee this year.
The Crooked Hobo Baltic Porter: 10% ABV
Crooked Hobo stands up to any barrel-aged porter you'll find with deep flavors of caramel, coffee, chocolate and vanilla without getting too thick to enjoy. It's smooth and warms nicely with some added help from the whiskey aging while still managing to be…almost fluffy.
What type of whiskey barrels were used for Crooked Hobo? Where did you source them?
Nick: We used Great Lakes Distillery Kinnickinnic Whiskey barrels for The Crooked Hobo. Von Stiehl Winery and Great Lakes have a great relationship so up until now we've been fortunate to be 'grandfathered' in on the relationship. I haven't approached them yet on my own since the acquisition to inquire about more barrels but am hopeful we can create a new or continued relationship with them.
How long was Crooked Hobo sitting in those barrels?
Nick: The Crooked Hobo had a crooked path. Brew day for the beer was in September of 2014 for a release in May of 2016. In 2014 we were fermenting in plastic 300 gallon totes, I was new to barrel aging and brewing on a professional level and I needed to work some kinks out of scaling batches from 5 gallons to 300. May 2015 rolls around and we had just released 'The Smoking Hobo,' a barrel-aged peat smoked porter which was brewed on our older 3 bbl system in late 2013. I was really proud of the beer; the barrel characteristics and was excited for its impending release. Curious how The Crooked Hobo was coming, I tasted it from the barrel and wasn't as excited, so I brewed another batch of The Crooked Hobo to blend in to the 2014 batch, in June of 2015. The June 2015 batch went in to additional Great Lakes barrels mid June. The blend of both the 2014 and 2015 batches was release in May 2016. So how long was it in barrels…half was in for a year and a half, the other half was in for a little under a year.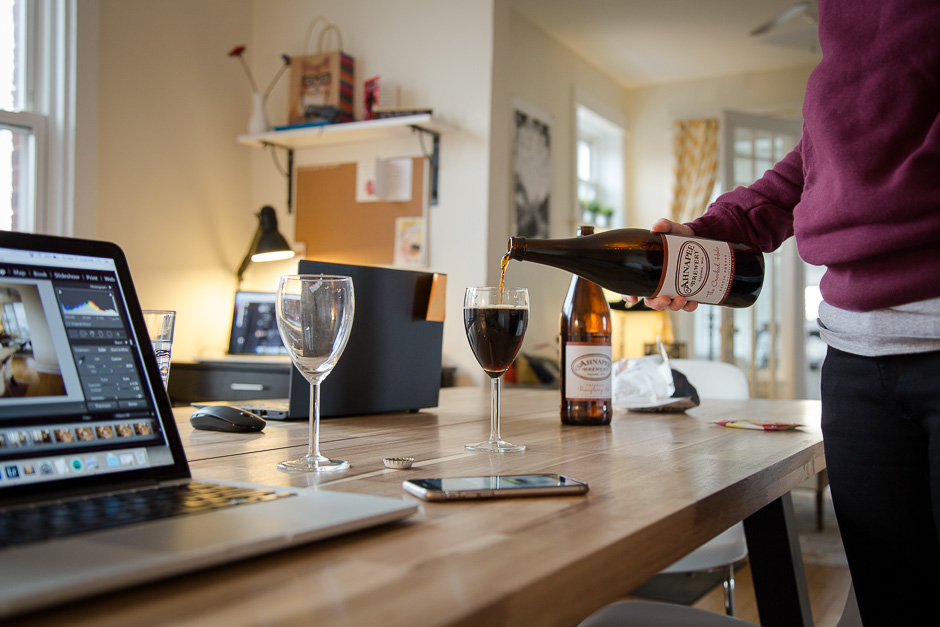 What does the malt bill look like?
Nick: The malt bills for both are different. The malt bill was my chief complaint about the 2014 batch, it was good, but needed more and deeper Porter characteristics. I relied on limited additions of Black malt and Roasted malt to pull a lot of weight and they weren't up to the task on their own. In the 2015 version, I added a fair amount more of both, included some caramel malts and amped up the hop bill as well as it was lacking in the 2014 version.
Will this variation ever be made again or will the Hobo series always feature a new style or recipe?
Nick: This is a good question and one I think about a lot. We brew a different Hobo brew for each year, but at some point we're going to run out of "different" styles to brew. Each Hobo has had its share of customers asking for it to come back. It would be nearly impossible to re-create The Crooked Hobo due to the path it took to get it there. That said there is always room for improvement and if it was brewed again I look forward to making it even better. It's not on the schedule yet to be brewed again, but you never know.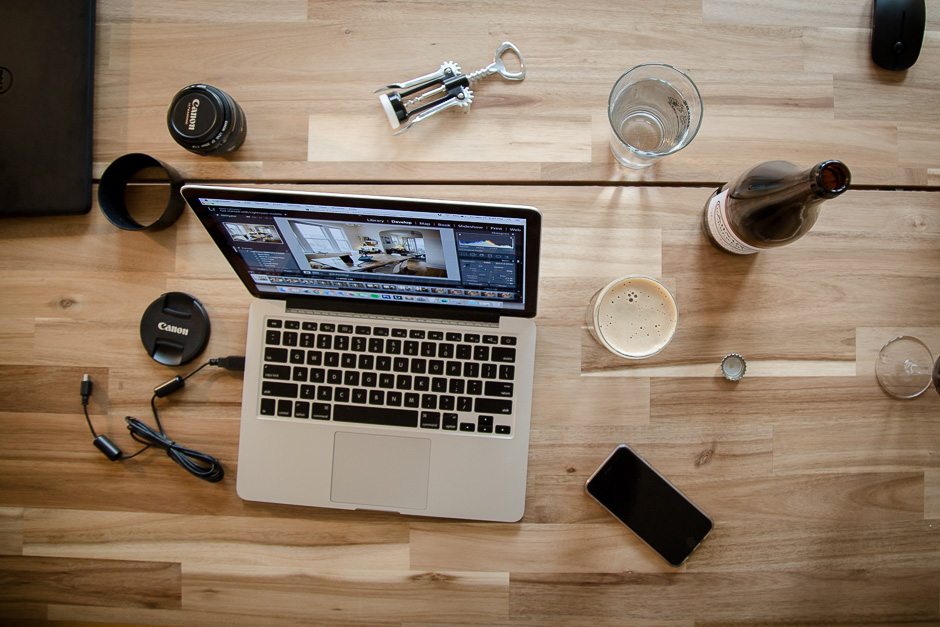 Are there any big plans for further distribution or increasing output or will it be status quo?
Nick: I'm excited to add a concentric "ring" of distribution. We are currently working hard to promote our beer in a handful of counties [in Northeastern Wisconsin] just south of our current distribution which includes as far south as Fond Du Lac Co., East to Sheboygan Co. along the lake shore and West to part of Waushara Co. We're confident we can supply the new counties and the current distribution we have, but are taking it slow to be sure we don't over commit. I'm really excited to be growing our distribution in the Fox Cities and to be able to share our wares with them.
Is there anything upcoming that you're really looking forward to?
Nick: Besides "Ahna-Peach," our newest Hobo, "A Hobo Called Barley," a Whiskey Barrel Aged Barley Wine is set to be released on May 13th at the taproom. It'll be our fourth installment in the series and can't wait to get it in to bottles!
Will there continue to be a consistent barrel program?
Nick: Our barrel program is something I'm pretty proud of and will continue to do.  We have a three strain 100% Brett beer aging in red wine barrels as we speak.  I'm devising a plan to bottle a portion of it this year, and keep the "clean" integrity of our brewery at the same time.  Besides the barrel aged release I've mentioned, Ahna-Peach and A Hobo Called Barley, we have a vanilla, barrel-aged chocolate milk Stout planned for a 2017 release too.  I'll continue to put a good amount of effort into maintaining our barrel program, regardless of where we can get more barrels from.