When you've spent four years perfecting your business plan, the thought of throwing away the first batch of the first beer you've brewed in your new brewery seems unfathomable. But when "good enough" doesn't meet the high standards you've set for yourself, you cut your losses, learn from it and move on. While it may not be the most immediately profitable way of running a business, it's the most beneficial for the long-term success of Alarmist Brewing.
Every bit the perfectionist, founder and head brewer Gary Gulley is surprisingly candid when discussing the growing pains of starting a brewery. A year after opening, Gulley and his brewer Aaron Dahl have spent a lot of time deciding how to move forward.
"We spend a lot of time talking about that stuff. Where are we going? Where do we fit in? Do we want to fit in? What does it even mean to fit in? Trying to find our identity as a brewery and not in a shallow marketing sense, but what do we want to be known for? To us, the beer comes absolutely first, everything else comes second." said Gulley.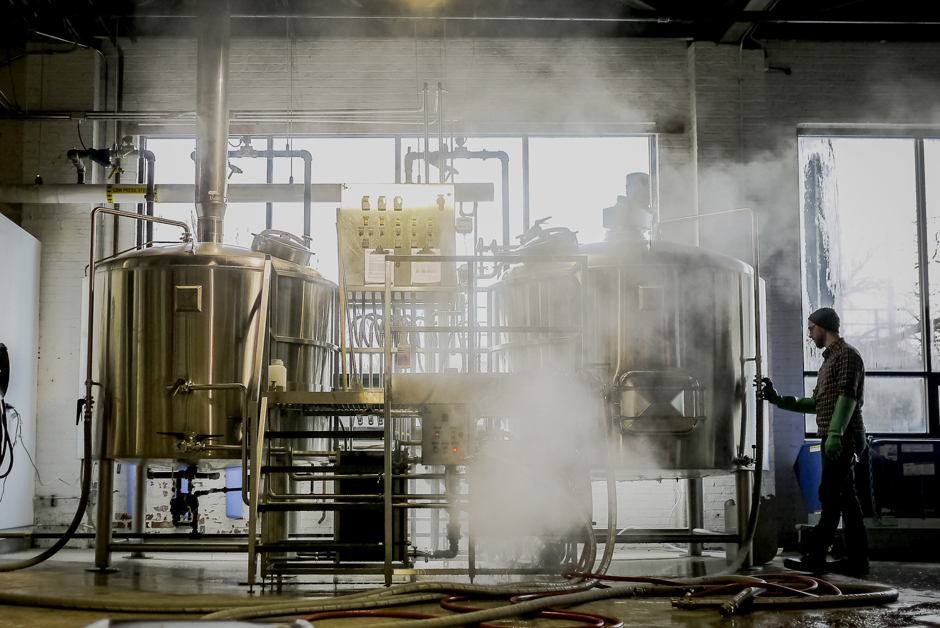 For many young breweries like Alarmist, the trial and error phase is especially rocky during the first few years before they're able to hit their stride. With several rewrites in his business plan that delayed opening, Gulley saw the craft environment change dramatically in the time it took to finalize his business model and not just by the influx of local breweries opening their doors.
"Everybody is coming here. There are quite a few bars that are local-centric, but there are a lot that just don't give a crap. You go into a bar and there are a few locals on tap and everything else is just big, craft brewers from out of state."
Alarmist's identity has long been in flux, starting with a change away from the name Panic Brewing due to a legal issue, a logo switch and the recent decision to drop his line-up of four beers down to two, opting to put his favorite beer, Pantsless pale ale, on temporary hiatus.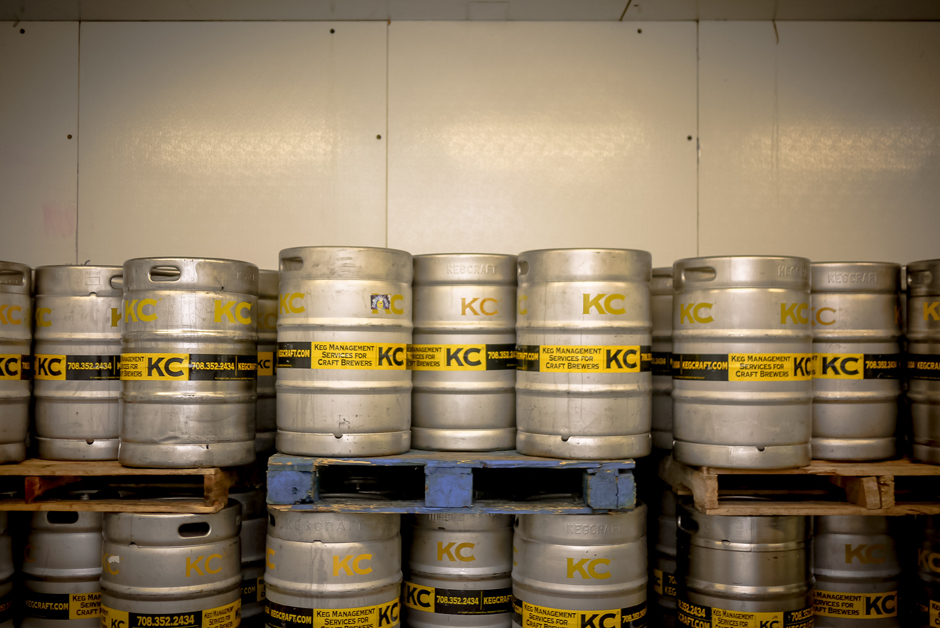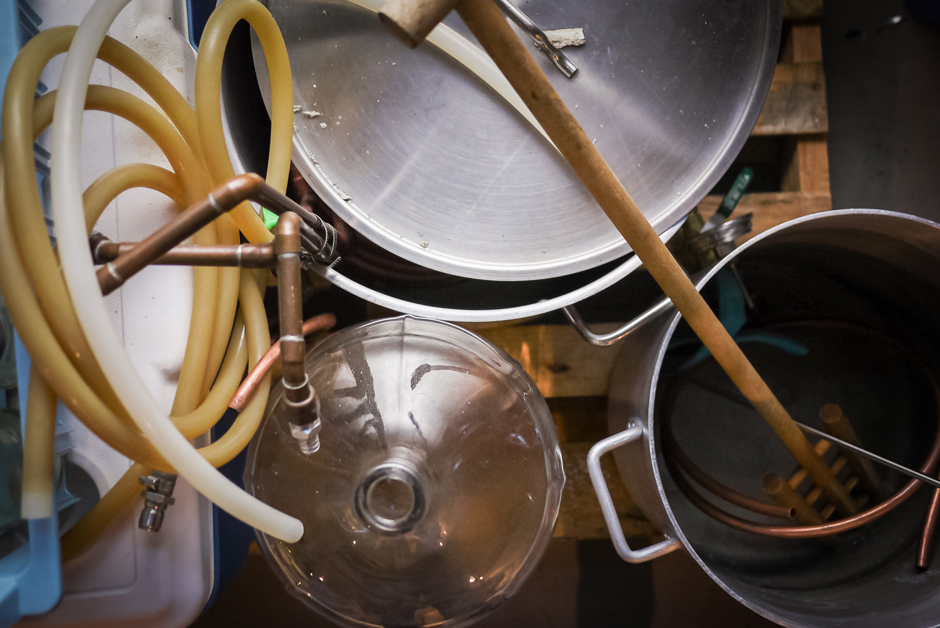 "We're not really happy with that decision. We kept brewing it, kept tweaking it, trying to figure out where we want to go with this beer and its never been what we've wanted it to be. Mostly because we didn't know what we wanted it to be. We're gonna let it go away and we're gonna completely reformulate the recipe from scratch, I mean completely."
What remains is Entrenched IPA which hit the market last month in 16 oz. cans and Phobophobia, a patersbier that's due to be canned in the coming weeks. Without a canning line, Alarmist is only able to package beer when their contractor's schedule allows, which makes a smaller line-up more manageable for Gary and Aaron while they figure out a proper brew schedule that would allow for more consistent canning days.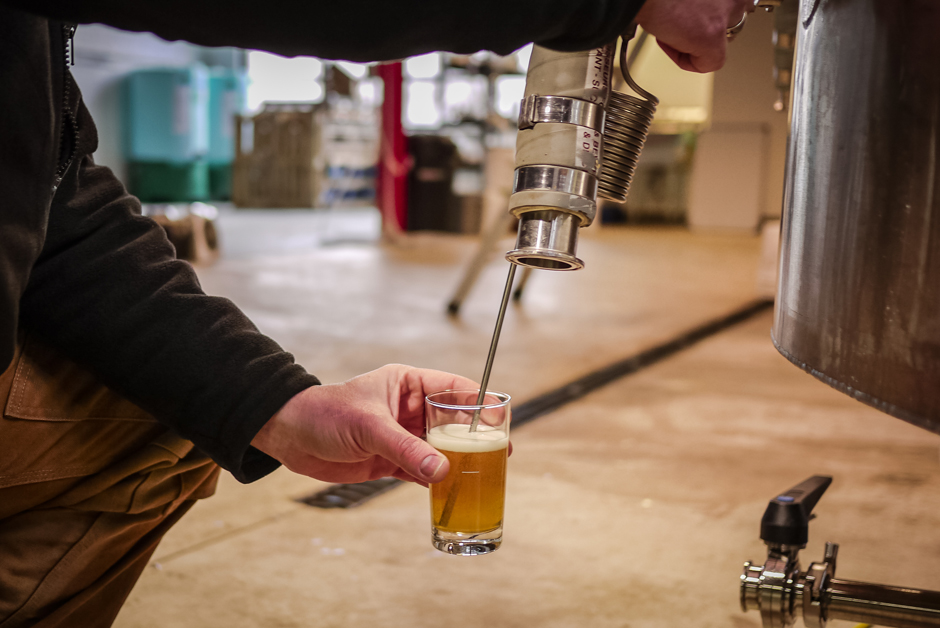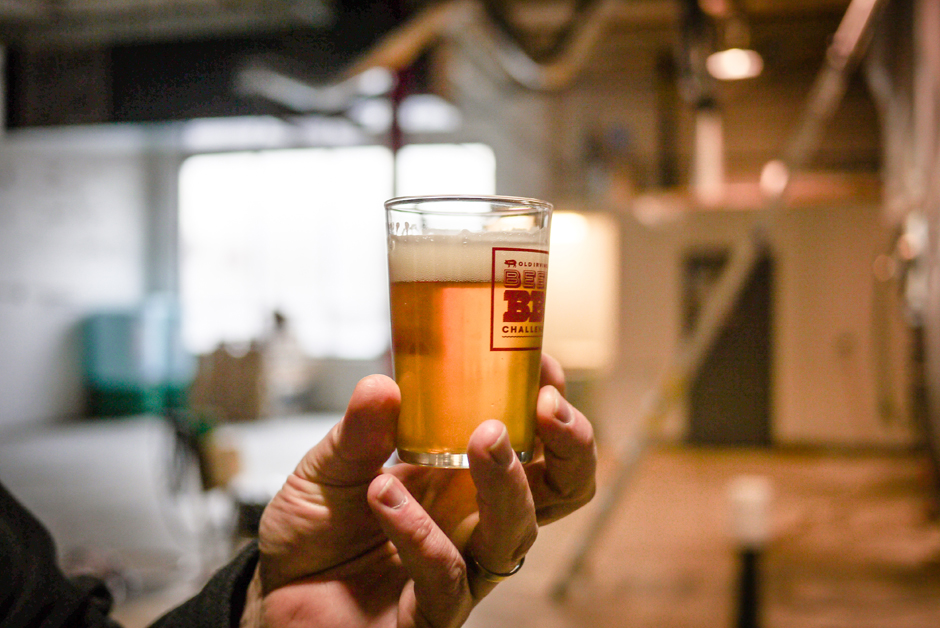 Constraints on packaging have lead to another problem, albeit a more desirable one: they can't keep up with demand. All of the beer available at the brewery is spoken for. "We're out. This beer [in the bright tank] is all sold. That beer [in kegs] is all sold. It's crazy. I'm glad to have this problem finally, but my god! I can finally sleep at night," said Gulley. At the time I visited Alarmist, all of their raw ingredients slated for the next few brew days was technically sold, too.
Despite Entrenched being well-received, he's not satisfied, admitting some oxygen may have gotten into the first batch during packaging causing a drop in carbonation and an overall darker appearance. "It just doesn't have the pop of this beer straight from the tank. They should be really fresh and they aren't and it's bumming me out. We're getting really good reviews overall, but I'm still frustrated thinking it could be so much better. Just hang on, we'll get there. We're so close!"
Even if Gary isn't 100 percent happy with the results of the first batch hitting the shelves, he understands that he needs to get product to market to enable his beer to reach more people. Up until now, they had relied on small batches due to slow sales, but realized the need to increase brew days or they'd be forced to continually buy new yeast, so they bumped their batches up to 20 gallons. The change kept their yeast viable, the beer fresher and has led to product moving out the door faster. They're scheduling more grain and hop deliveries than ever before and their distributors are starting to give them more attention.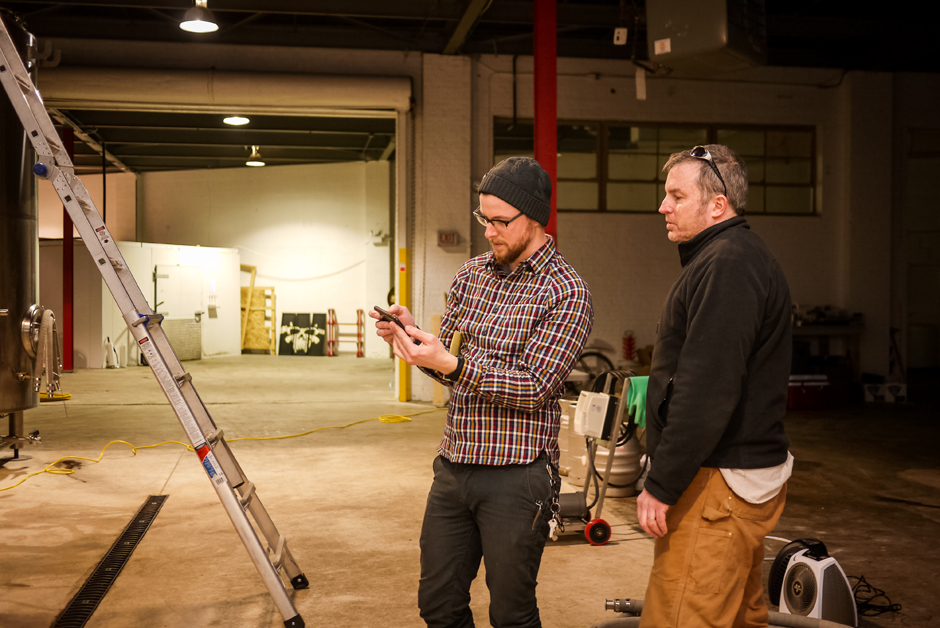 Momentum is swinging Gulley's way, but it's been a slow-moving process that has him about six months behind where he thought Alarmist would be when he originally wrote his business plan. At the same time they were tinkering with their flagship offerings, they invested in french oak and Four Rose whiskey barrels, which is giving them a chance to venture outside of their comfort zone and into the realm of sour beers.
"We're biting off a lot at once, but we've got to get started with this because it takes years to get this going. We love these kind of beers, but this is also kind of an ego thing. We're brewing this sort of flagship, middle of the road type beer, as far as character; nothing crazy. But these are the beers where we want to flex our creative muscles. We don't know a lot about it quite yet, so it's fun to learn. It's going to be called the Murcurial Series."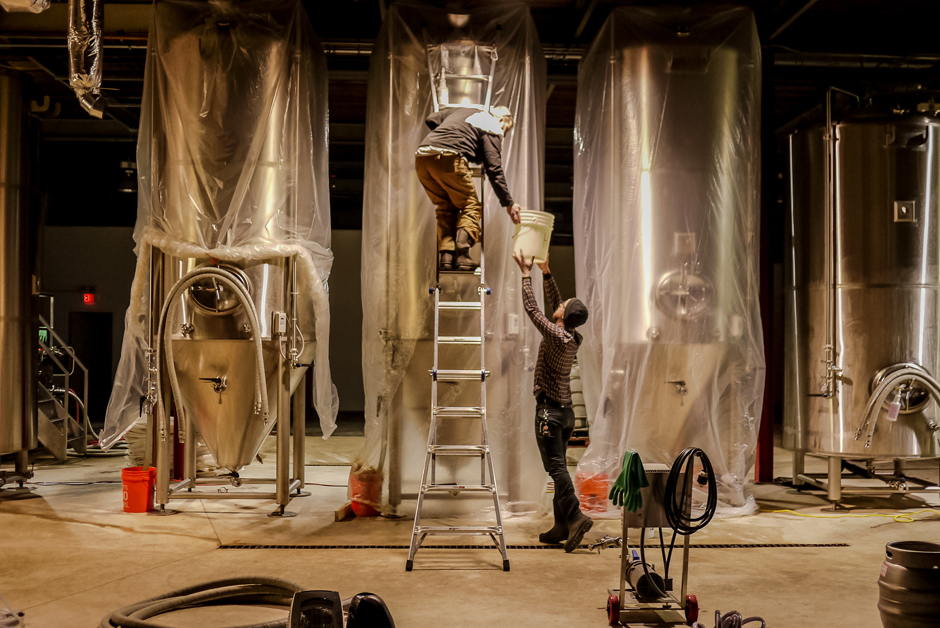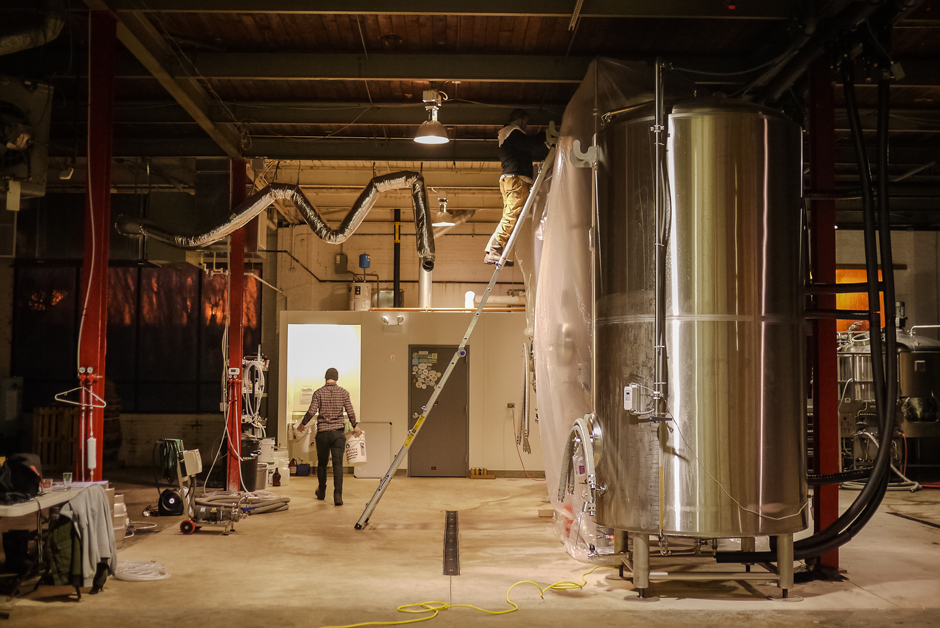 Alarmist has several moving parts right now, most notably a taproom build-out that will help bring the brewery to profitability. Gary is still waiting on his license to sell beer from his facility, but knows it will be the engine that drives Alarmist. It'll allow him to bring more fermenters into his mostly vacant 10,000 square foot facility, hire a sales person and get help on the production side as well.
At a time when many breweries are pushing to open their doors as quickly as possible, Alarmist has taken their time, forsaking sales for quality, cultivating a reputation based on merit and building a brewery primed to become a neighborhood favorite. Playing the game of trial and error paired with a wait-and-see attitude is beginning to pay dividends. It won't be long before Alarmist can set their sights on what lay ahead, like learning how to operate their future taproom. "I've never run a bar, I have no idea how to do that! But we'll figure that out, just like everything else."