I walked into the Aberdeen Tap on the near West side around 4pm on a Tuesday and tucked myself at the end of the bar, hoping I had found a quiet place to pass the time before meeting a friend. After polishing off one beer, I conceded a second and asked the bartender if they had anything new. He mentioned a new pale ale they had, in addition to something-or-other that I didn't hear because I immediately said "I'll try the pale." He offered me a taste before ordering the pint, "It's a little different than most pale ales." I declined and got the full pint. He wasn't wrong, though. Silk Road is not your typical pale ale, which is why I immediately hopped on my phone and searched for Around The Bend Beer Co..
The next day, I sent a message their way, professing my appreciation for that pale ale and to see if they had interest in telling me more about their beer. Not long after hitting send, I got a response from Around The Bend's Founder and CEO Dan Schedler: "Hell yes." Those two eager words would only be a small window into his ardent, yet cautious approach to getting Around The Bend off and crawling, then walking and eventually running.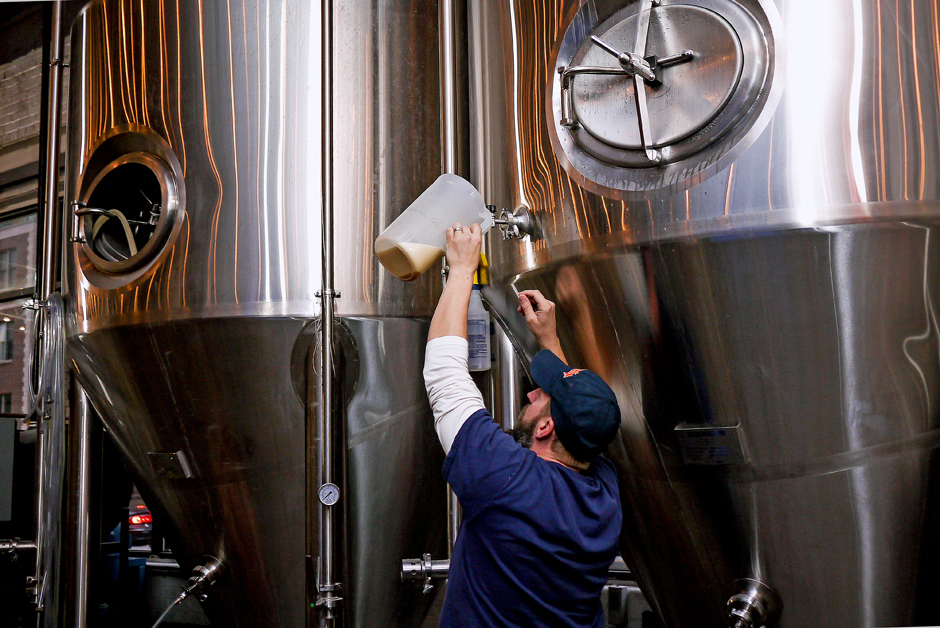 I walked into the shared space on Diversey, a building owned by Ale Syndicate that is home to a handful of Chicago breweries including Arcade Brewing and 51st Ward Beer Co. Just moments after walking through the door, Dan greets me from a forklift and is immediately on his feet with a firm handshake. Without skipping a beat, he offered to show me around. I get a quick tour of which fermenters belong to who and we arrive at two 40 barrel tanks that belong to Around The Bend.
He asks me if I'm thirsty while taking a pull from one of the fermenters and offers me glass of Mr. Marmalade, an up-coming double IPA that he mentions is made with Seville oranges, a severely bitter little thing with a serendipitous history. He tells me he came up with the idea from the story of an English merchant who purchased a ship load of the oranges without tasting them. When he returned to England, he realized they were too bitter to sell as they were. Instead of letting them go to waste, he added copious amounts of sugar and came up with the popular British marmalade we know today. It's not overtly bitter as the backstory would suggest, but the Seville oranges add the pithy bitterness you want in a double.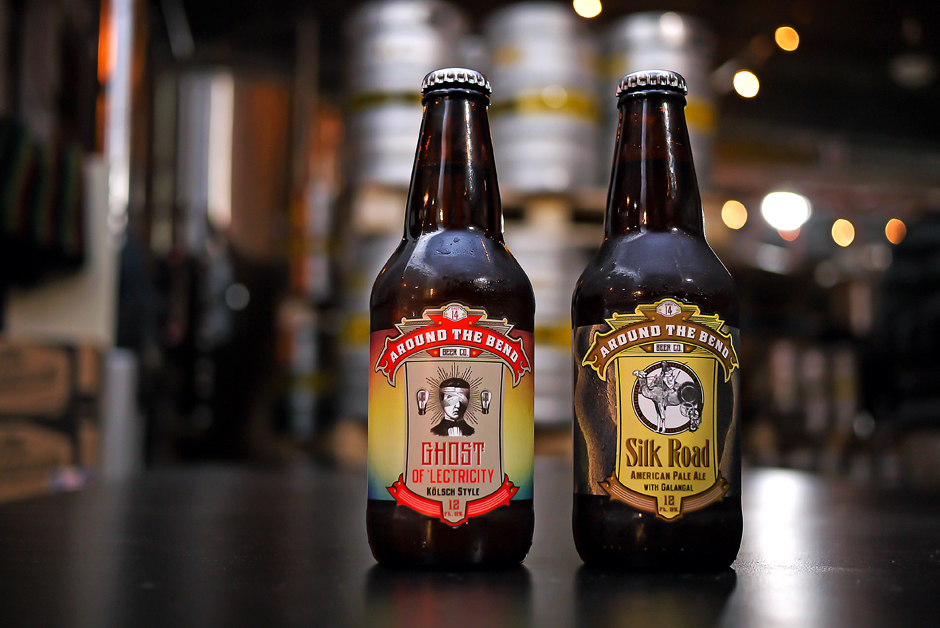 At this point, I asked him if he's a history buff. Silk Road, clearly being named after the ancient Asian trade route, is brewed with galangal, a rhizome in the ginger family that originates in Indonesia and gives this beer an ideal pairing of spice and bitterness. It's also the second beer influenced by historical reference. He smiled and admitted as much, not that it couldn't had been derived from the vintage, steam punk inspired branding that adorn the bottles of both Silk Road and their Koslch named Ghost of 'Lectricity.
History has not only given Dan an outlet of creativity in brewing and branding his beer, it's also given him a lesson in how to grow a business. With 20 years of home brewing experience and 18 years in advertising on both the client and agency side for some big corporate hitters, he knew he had the business acumen to start a successful business, but had the foresight to know he needed some help when it comes to the daily operations of brewing. He soon enlisted the help of Joe Cuozzo, a professional brewer with nearly two decades of experience (some with Alesmith in San Diego), to both create new recipes like Mr. Marmalade and polish some of Dan's greatest home brewing hits like Silk Road.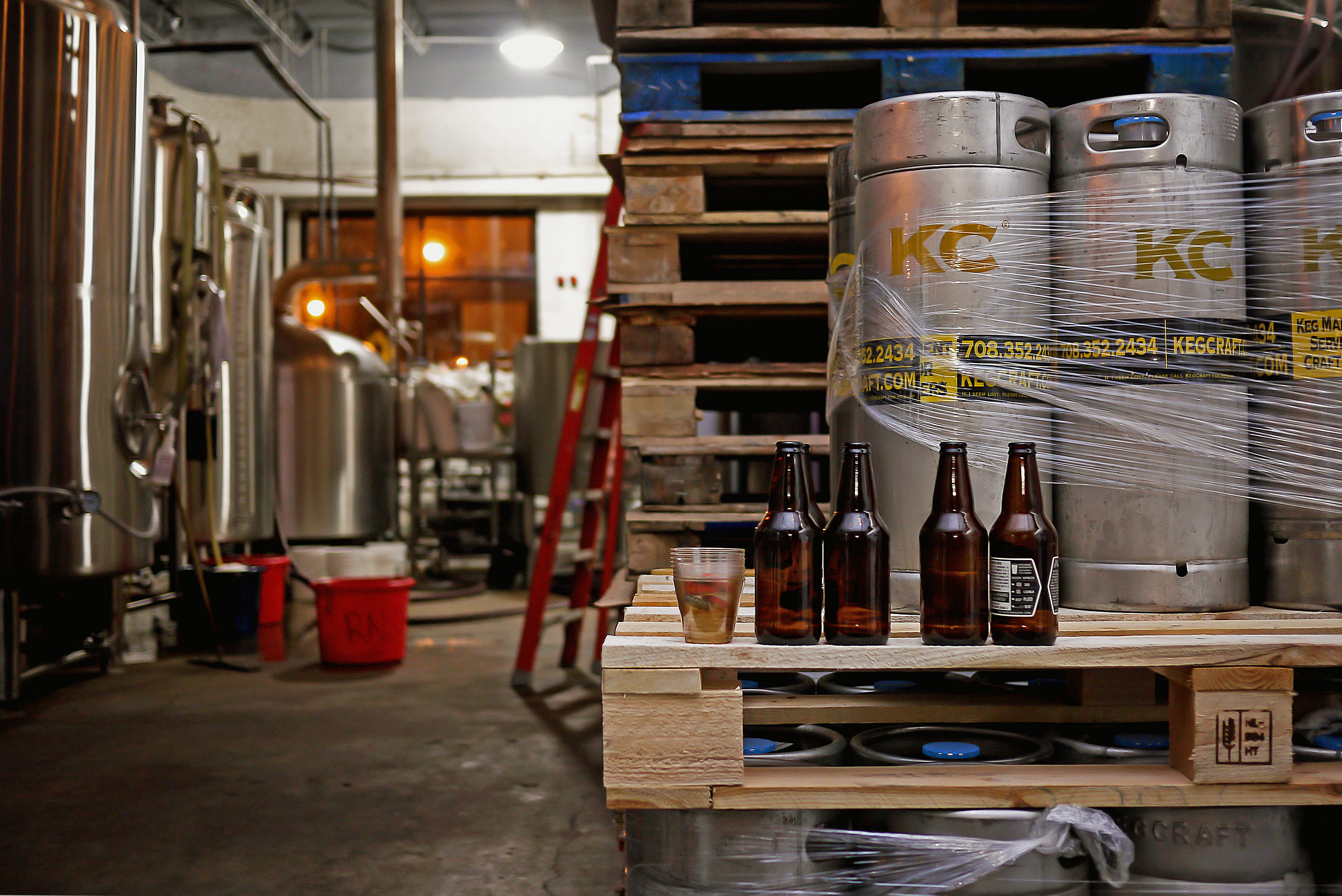 With a head brewer on board, Dan set his sights on getting set up with a contract to brew, citing a trend he's seen in new breweries getting their own space and quickly out-growing their system and having to upgrade at a loss every five to 10 years. Slow, controlled growth is what Around The Bend is counting on, hoping to eventually share a 65,000 square foot space near Bedford Park, IL with FarmedHere, a sustainable indoor farm that uses hydroponics, a process that necessitates carbon dioxide, a byproduct of brewing beer, to stimulate plant growth.
While there's confidence in how Around The Bend has grown in the six or so months they've been operational, Dan's eagerness to get the ball rolling edges on restlesness – an understandable disposition having given up a lucrative career to pursue a dream wrought with the uncertainty of entrepreneurship. They've hit targets for accounts signed up to this point and everything is unfolding according to plan. Their third beer, Puffing Billy, has hit the market to rave reviews.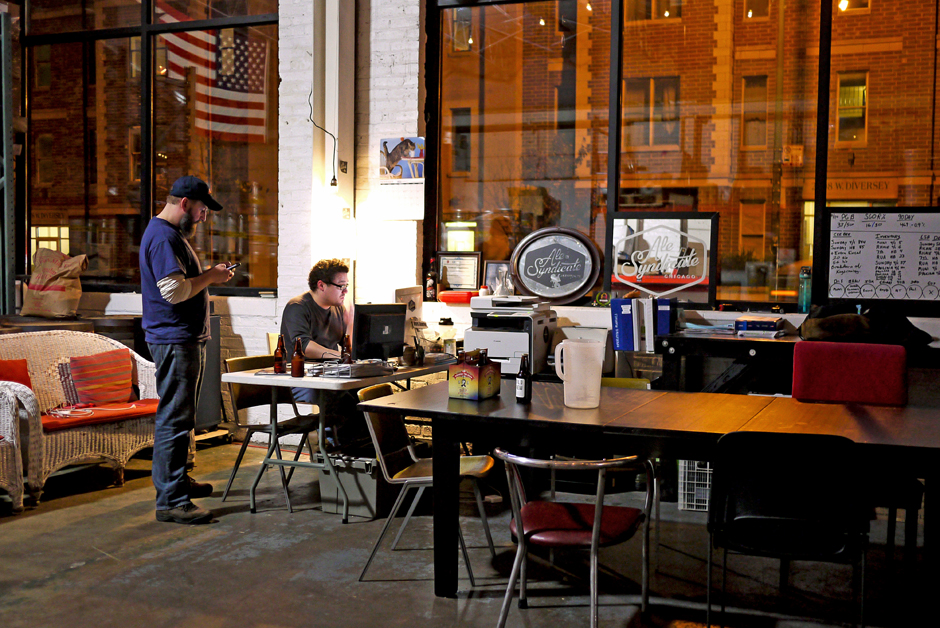 An American Brown ale, Puffing Billy (named after world's oldest surviving steam locomotive, another historical reference) is a beer he thinks is going to take off. It's brewed using pale, caramel, Munich, chocolate and oat malts, hopped with 100% Northdown and finished with cacao nibs. It's rich, robust with a balanced bitter finish from the hops and cacao; a really flavorful, yet sessionable beer. It's strictly on draft for the time being and it's doing so well, it was sold out the two times I found it on a tap list in the city.
Around The Bend is picking up steam (ha) and Dan's vision for the brewery continues to move forward. Despite any restlessness that may exist, history has taught him to trust the process he drew up in his business plan, even when it feels like things should be moving faster than they are. With time will come growth and if the short history of craft beer in Chicago predicts anything for Around The Bend, it's likely we'll be hearing a lot more about them in the future.