By mid-March, most people's taste buds have all been burnt out by big, bold barrel aged porters and stouts, winter warmers, spiced beers and a bevy of other styles conducive to the Winter months. With Spring on the horizon, it seems fitting that a craving for something lighter, more sessionable would creep in — something that bridges the gap between dark, creamy beers consumed in January and a light, crisp witbier on a hot July day. Enter 5 Rabbit's Midwinter ale, Huitzi.
Huitzi was introduced to the Chicagoland area early 2012 and is described as a Belgian Strong Golden Ale, brewed with hibiscus flowers, ginger, Thai palm sugar and local Chicago honey. I had my first taste at the Village Tap on draft not long after it's initial release. I remember thinking it was an above average beer; sweet, malty, bready, earthy with a slight citrus/floral finish. It was a good pour and a welcome break from the palette coating winter styles.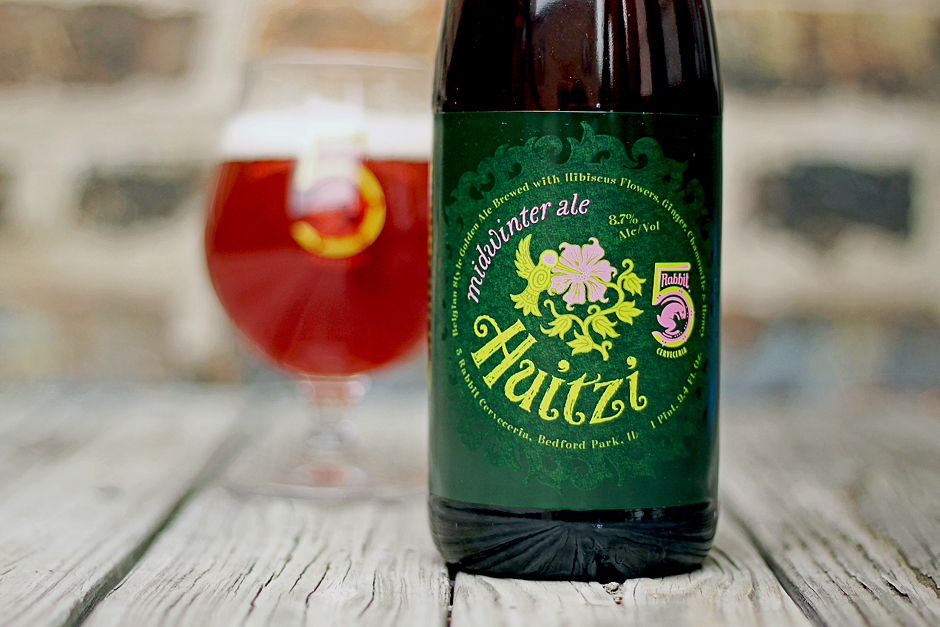 Fast Forward to winter 2013 and 5 Rabbit is rereleasing Huitzi after beginning production in their new state-of-the-art brewery. The description remains the same, but the quality, character and depth of flavor has vastly improved. This year's huitzi is extremely well-balanced; the ginger and hibiscus are most notable at first sniff and not far behind on the front-end of the first sip. These delicate notes give way to the sweetness of the palm sugar and honey at the finish without being heavy or syrupy due to a good amount of carbonation. It's bubbly, crisp and light while subtly holding the sweet notes you'd expect from a harvest ale. It serves as a perfect transition not only for 5 Rabbit as they continue to hit their stride, but for your taste buds while you wait for the weather to warm up.