No one ever said camping in late September was a bright idea. It was cold, it was rainy, but damnit, we had fun! The group arrived in Coloma, Michigan around 10:30 EST, greeted by steady to heavy rain showers. The rain, as well as chilly temperatures, would prove to be a main-stay for the duration of the weekend, but nevertheless the tents went up, great food was created/consumed and adult beverages were enjoyed.
Before going on the trip, I enlisted the help of my knowledgeable and always helpful Twitter followers for suggestions on beer to bring on a camping trip. As I suspected, all the responses I received emphatically lobbied for craft cans. No problem; I've been meaning to try a few beers that are mainly sold in aluminum. Not only did it call for some new brew sampling, it also meant I could finally take a trip to the Binny's on Clark and Wrightwood. I ended up getting Ska Brewing's Modus Hoperandi IPA and Half Acre's Over Ale ESB while my friend Bill picked up Big Sky Brewing's Trout Slayer Wheat Ale and Wild Onion Brewing's Hop Slayer Double IPA.
After trying each of the beers, it was no surprise to come to the conclusion that Wild Onion's Hop Slayer was the best of the four. First thing you notice after pouring it out of the can is the extremy frothy and thick head that accumulates. After tasting it, I couldn't help but notice how mild it tasted in comparison to a traditional IPA. There was an unexpected but subtle sweetness/malty flavor that balanced out the hops. It was delicious and the favorite among all of us.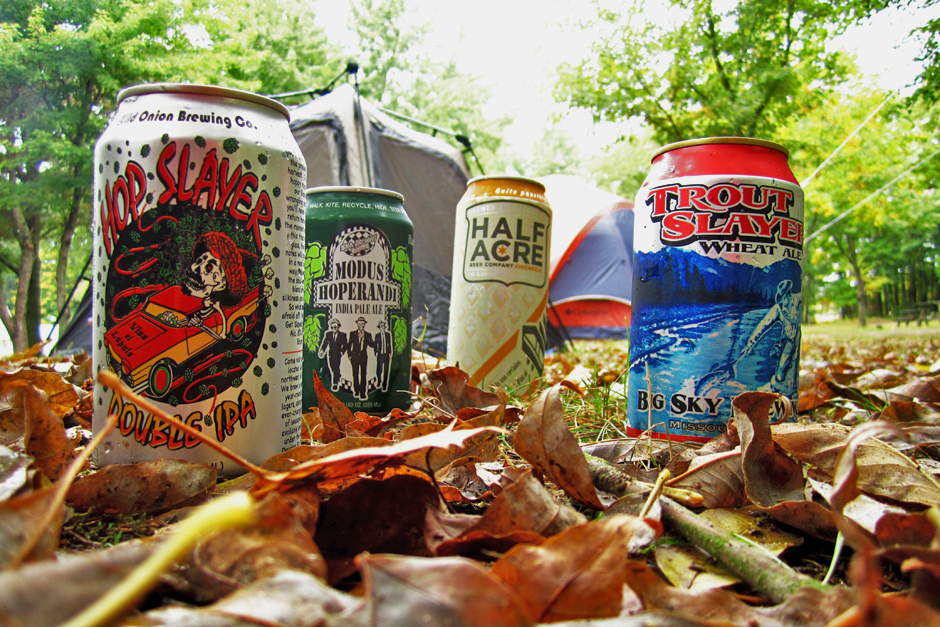 My second favorite was Half Acre's Over Ale ESB — another beer with a mild flavor for its style. I felt like it could be considered a Brown Ale as it doesn't have the same intense hop flavor that I'm accustomed to with an ESB; still a very drinkable beer. The Modus Hoperandi seemed pretty standard for an IPA. Nothing noteworthy but nothing wrong with it either – slightly acidic, very hoppy yet very drinkable.
Surprisingly, the Big Sky Trout Slayer was my least favorite which was disappointing after having my mind blown by their Heavy Horse Scotch Ale at the Midwest Brewer's Fest. It was extremly malty to the point of it almost tasting like liquid brown sugar. I could see it working in a food pairing with something on the salty side — maybe thick cut bacon, but for sitting around a camp fire it wasn't hitting the spot. It's not a beer I'd sit down and drink three or four cans straight, although a unique beer.
At some point, someone broke out a bottle of Elijah Craig Bourbon. I do my best not to partake in liquor because it almost guarantees I'll act like a jackass and pretend I know how to do stuff like parkour. My friends seemed to enjoy it, though, as I'm told it's a pretty smooth and highly rated whiskey.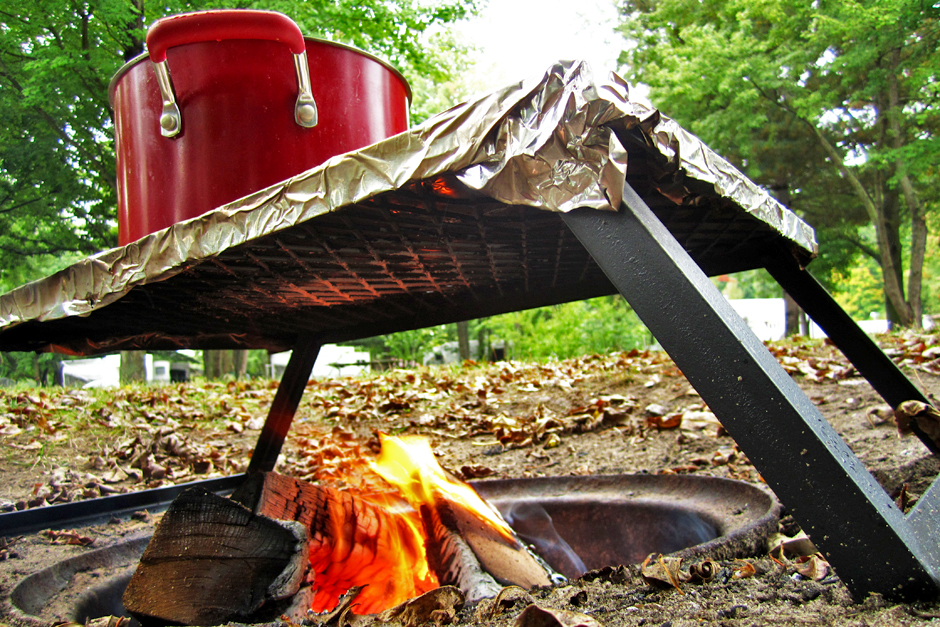 Despite freezing my ass off the first night and then promptly finding a Meijer nearby to purchase a sleeping bag the next morning, I enjoyed good beer, good company and good food. By good food, I mean marinated flank stank grilled over the fire, then slow cooked in chili for hours before being consumed. No exaggeration when I say it was the best chili I've ever had. Overall, it was a great camping trip. Although, I think I'll limit my camping to summer only in the future.