For most people, working a 9-5 office job is a necessary evil. If everyone were able to do what they love to make a living, there would be no one to sit behind a desk being miserable — that just isn't balance. Because of this, many people have less time for just about everything else in their lives that they might actually enjoy, like cooking. In order to combat (lack of) time and (lack of) motivation during the work week, it's easiest just to throw something in the crock pot overnight.  About a week ago, I did just that.
Beer Braised Pork Taco Recipe
Start by assembling the items below and getting them into a crock pot.
1 whole pork shoulder
2 packet of Goya Sazón seasoning
2 bottles of Berghoff Prairie Lager
Salt and Pepper to taste
It sat in the crock pot for about 10 hours overnight.  In the morning, I shredded the pork, which practically fell apart on it's own, and put it in the fridge.  The flavor was incredible — It was tangy and tender as the Sazón, salt & pepper and the beer created an amazing brine for the meat.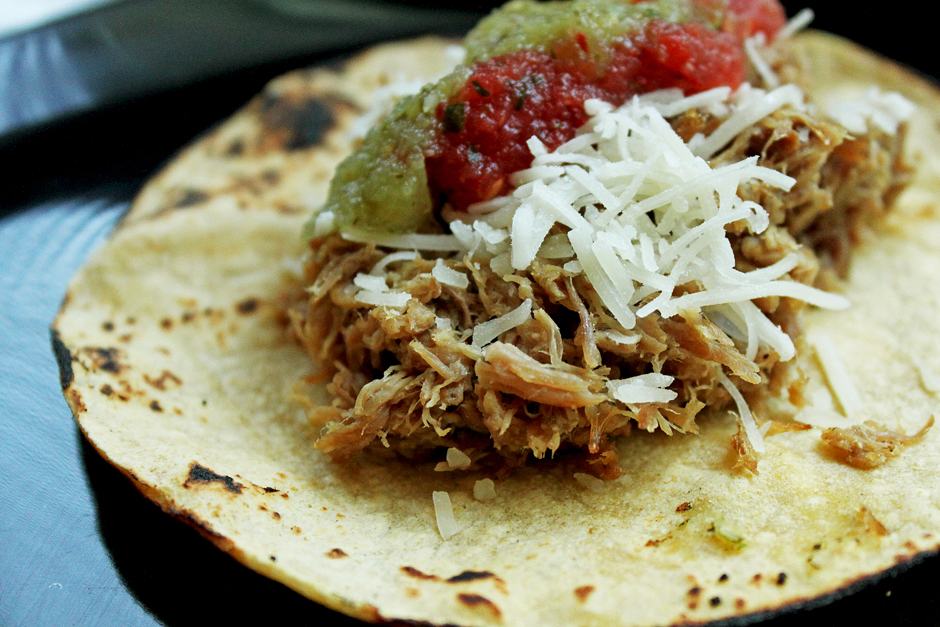 A week had passed and after making a few sandwiches for lunch out of the pork, I still hadn't finished it.  Not wanting it to go to waste, I had an idea to make tacos for dinner using what remained.
All I needed:
Soft corn tortillas
Monterey Jack Cheese
Red Salsa
Salsa Verde
Cilantro
I put the shredded pork in a pan to separate the fat that had rendered during the slow cook.  Once it separated, I drained it into a grease-cup with a strainer and returned the pork back to the frying pan.  Once the meat was heated through and drained, I simply put some corn tortillas over the open flame of the gas burner to blacken them on each side.  Slap your pork on the tortilla, top with cheese, salsa, cilantro or whatever you like on your tacos.  Perhaps you enjoy a dallop of sour cream or even some black bean and corn salsa.  Anything goes with tacos, you know that!
Enjoy!