New breweries have been popping up all over Chicago, some big, some small, some good, some great — each with their own story and identity while at the same time, holding many similarities. They all want to make good beer (we hope) and give back to the community that supports them but few, if any, plan to take community to the level of newly founded Middle Brow Brewing.
Created by Nick Burica and Bryan Grohnke, the heart of Middle Brow will be driven by monthly home brewing competitions in which the winner of each competition will have the opportunity to have their recipe brewed on a large scale with proceeds going to charity.  I sat down with Nick and Bryan on a rainy Saturday afternoon at Local Option to discuss the plans for Middle Brow and how the idea came about. Their story is not unlike many others who find themselves in the beer industry today but their goals may set a new precedent for involvement, cultivating creativity and community.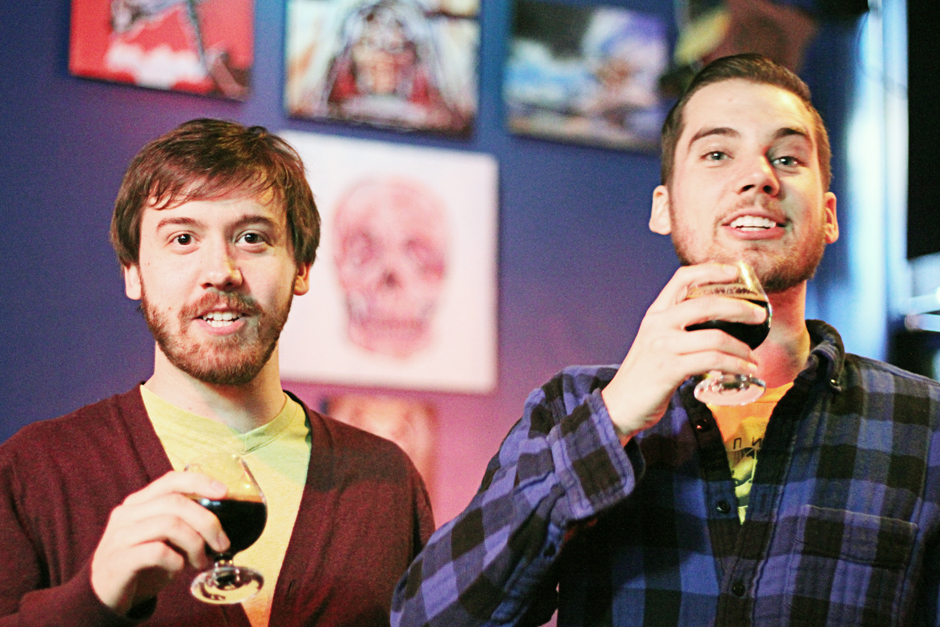 Steph: What are your backgrounds with beer? How did you gain interest?
Nick: Well, I grew up in Oak Forest right next to Flossmoor station, it opened when I was 14 or 15 and my dad would always go there. They'd always get the samplers there, nothing too crazy at the time for 10 years ago. College was full of Bud, etc., but I went back to Flossmoor when I turned 21. My brother also happened to live in Indiana and is friends with the brewers at Three Floyds, so we'd hang out with them at their brewery and I got to see their hop farm. They'd have cook offs, etc. As soon as I got a job and could afford good beer, I myself explored the finer craft. I've gone to all of the events, etc., and of course a cellar that bothers me, full of rare beer that I should drink but I just stare at it.
Bryan:  Similar story, just growing up drinking both college stuff and craft stuff. I remember getting a 12 pack of Sam Adams winter variety and having the winter warmer. It was the first time I was like "holy shit, beer can taste like this?" I had no idea. I had the holiday porter next and from then on it was a mission to delve into something bold, more interesting. Started off with the bigger guys in the area, Goose Island, Sierra Nevada, Dogfish Head. I just made it my goal to pick up something from a different brewery or a different style whenever I go to Binnys and just start exploring. I became obsessed with it in a sense.
Steph: What drew you to home brewing specifically?
Nick: My parents bought me a home brew kit about 5-6 years ago and the rest is history.
Bryan: I started probably about four years ago. For me, when I became obsessed with beer, the next logical step was to make the stuff. You kind of get off on the idea of creating something from your own imagination, whether it's something that's never been done before or a style that's not around. Then to share with friends and family, it's just cool. Also, it's a hobby; fills up my free time, just something I like to do.
Steph: How did the idea for Middle Brow come about?
Nick: Our other friend, who is our partner, he lives in New York. We were bouncing a couple of ideas off each other one day, just bullshitting; we're a bunch of guilty Catholics and we thought we should start a charity. So we're bouncing ideas and I asked what he does and he  said, "well I go to work all day, what do you do?" and I said, "well I brew beer"  and he says "well what do we do with that?" and I said "I don't know." So we're thinking, why don't we start a brewery that's for charity? From there we started formulating ideas. I'll never go to Siebel or anything like that and I don't have the heuvos to quit my job and dedicate myself to being a brewer. But you know what? I'm a home brewer; I know a ton of home brewers — is there something we can do where we put out a monthly beer from a different home brewer in Chicago and have it go to a charity? The thought was really backwards; I didn't go into it wanting a brewery, I started going into it as a charity. It ended up being a brewery because I literally know nothing other than beer.
Bryan: Yea, the origin of Middle Brow really is Nick and our buddy Pete's brainchild.  I'm just the fortunate friend that got tapped to help out.  Nick and I use to work at a video store, what, 11 years ago, and became acquaintances.  Lost contact for a bit during college, and then I remember posting on Facebook something about carbing up a Surly clone, and this asshole made some snarky, completely invalid remark out of nowhere.  So, in response, I made some snarky remark back, correcting his false logic and we discovered we both shared an affinity for beer.  Since then we've just always BS'd about this beer, or this trade and this event and this home brew.  From that relationship, he and Pete asked me to join about 6 months ago.  Read the concept, and I was blown away.  Needless to say, I'm very excited to be a part of Middle Brow.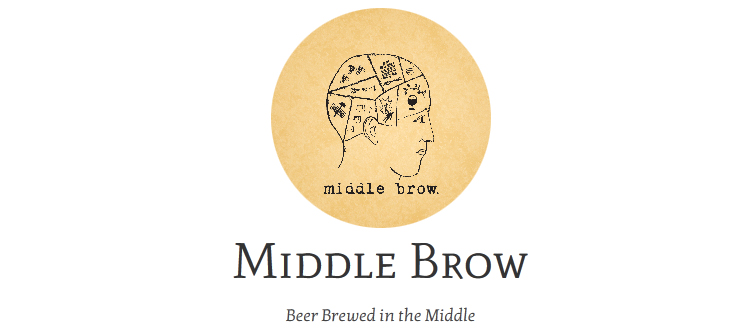 Steph: Why not start a traditional brewery?
Nick: Started looking at costs for a little brew pub, the laws, the time, holy cow, it'd be five years before we could turn a profit much less contribute to a charity.  We'd just be paying back creditors so we thought; maybe we could do a contract brewery. Ok, so, second problem. There are no more contract breweries. So we talked to a couple breweries just bouncing ideas and Pete from Haymarket Brew Pub was super nice, giving us an idea of what it might cost and legalities and saying that if we wanted to do the charity route we should find someone that wanted to do smaller batches, gypsy style. Unfortunately, that was the difficult part – no one was taking on smaller contracts.  After lots of digging, we found a new brewer who, while generally focusing on larger accounts, has a home brewing background and liked our story enough to take us on for smaller batches.  Thinking about it, we are pretty lucky to have established a relationship with these guys…
If you're an artist you share your work in a gallery. If you're a home brewer, what, you share with your friends? What's a gallery opening for someone who makes really good home brew? There's no such thing. There's this whole spectrum of artists who don't have the creative outlet for their stuff. You taste some amazing home brews and you ask, so you've got this amazing home brew, so what are you doing to do now that you've got these awesome beers and they answer "going to go to work on Monday and brew next Sunday." It's almost like it's not a respected art. There are great artisans, and there should be some sort of outlet.
Bryan: (While Nick went on his diatribe, Bryan sat back enjoying his Local Option brewed Gose)
Steph: Will your line-up always consist of entry-based recipes?
Nick: We want to do a monthly contest of a home brewed beer. Then we'll try to sneak in our own sessionable beer intermittently. It would be kind of weird to start a brewery and not brew our own beer. We'd like to do something a little more niche market. There are about 10 amazing IPA's in Chicago, so we'll probably steer clear of that style for a while.  Personally, and I know Bryan will agree, I'm kinda burned out on the style, but all it takes is a Citra Ninja to remind me that I'll never be completely burned out.
Bryan: That's another cool thing about what we are doing – typically, a brewery has their four seasonal beers, then maybe three or so year round offerings, so doing a different home brew competition every month, we'll put putting out a solid variety of beers in a year.  And like Nick said, we will brew a few of our own beers here and there as well. We really just want to keep everything new and exciting, and do all we can to help avoid style fatigue.  There are plenty of styles out there that have fallen but are certainly not forgotten.  Quite honestly, there's no reason why those styles are not being brewed – I don't get it.   And of course, if we run out of ideas, or just want to mix it up a bit, we'll let the community decide, and let them vote on what the next contest should be.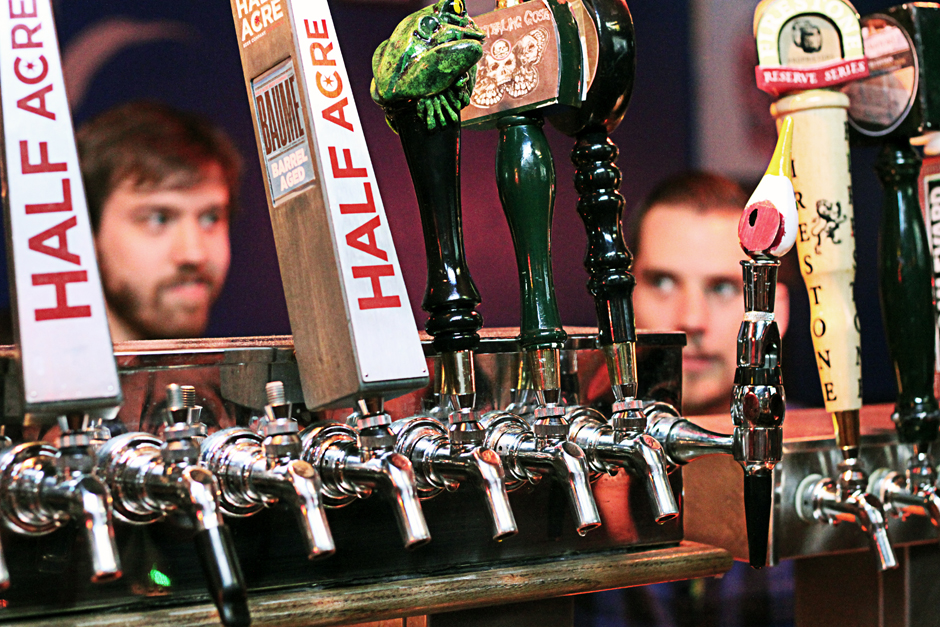 Steph: What is your vision for Middle Brow?
Nick: The charity thing might seem like a fluke. Realistically, I have a decent job, I have a place to live and a car.  I feel so fortunate to have what I have, that I always felt having more or making more is almost offensive in light of people actually struggling to get by.  So why not make beer and give the money away? Even if we end up having a brew pub, I'm going to make the same salary as I do today, and give the rest to charity.  If this does transition to something like that, half the profit of every beer and every entrée, and, hell, every piece of merch, will go to charity.
Bryan: I'd be really excited if this got to that level – where having a brewpub was an option.  I know all three of us are damn near as passionate about food as we are beer, and although the food and beer pairing practice is getting bigger and gaining more respect, there's still loads of room for innovation.  I look forward to the day where we could have the opportunity to work in some capacity in that arena.
But, really, when we drill all the way down to it, what we've started is a community beer company.  So I guess the main vision would be to always engage the community.  For example, if any home brewer has an idea for an obscure contest style, or wants to submit their art for a label, or if a farmer wants to grow some of the ingredients for a winning beer, we'll gladly oblige. And even though right now we're focused on donating to organizations that reduce gun violence – obviously a very serious problem in the greater Chicago community – if someone from the home brewing community knew someone else with a rare disease or whose house was being foreclosed upon, we'd love to organize a contest and make a beer geared entirely to helping out that person.  Our main objective, or vision, as you put it, is pretty simple–community activism, with beer as the vehicle, I guess–but there's an endless number of ways to accomplish it.  Ultimately, it's about bringing the community together while drinking some great home brewed beers.
***
Middle Brow's first contest is now accepting entrants. Read all of the details here for information on how to enter and contest deadlines. Click here to register.
You can follow Middle Brow Brewing to keep up with contest info on Tumblr, Facebook and Twitter.