There are plenty of bars in Chicago that serve a large variety of craft beers, but there are very few whose food can even remotely match the quality of their beer list.  The Bad Apple in the North Center neighborhood is probably the best I've been to yet.  Not only does the Bad Apple offer a killer assortment of craft beer, they serve some of the best food in the city.
Any day of the week, you can find anywhere between 20-25 beers on draft and 100-105 brews in bottles and cans.  What's even better is they support local microbreweries frequently featuring their beers on their menu.  You can find Half Acre, Two Brothers, Metropolitan, Goose Island and the most recently featured 5 Rabbit Brewing on their list at any given time.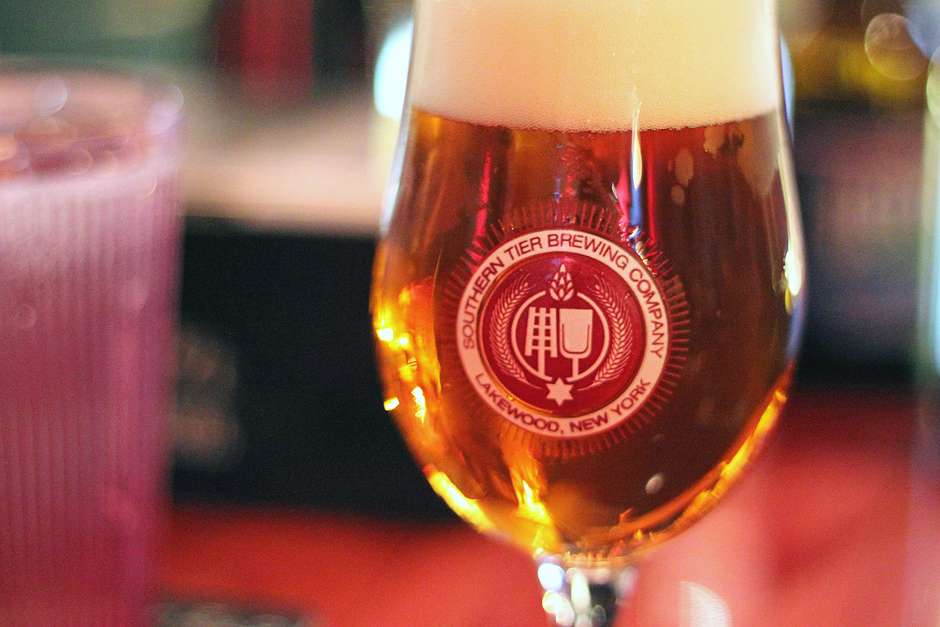 Now onto their food.  It is absolutely some of the best food I've had in Chicago.  From their creative sandwiches to their amazing burgers, the entire menu is legit.  For example, as a native Wisconsinite, I urge you to try their fried cheese curds from the appetizer menu.  Fried cheese curds were practically their own food group as I grew up so I was not only thoroughly excited to find out that the Bad Apple serves them, but that they actually know how to make them (they are hard to get right).  I recommend dipping them in ketchup instead of the ranch they come with, trust me on this one.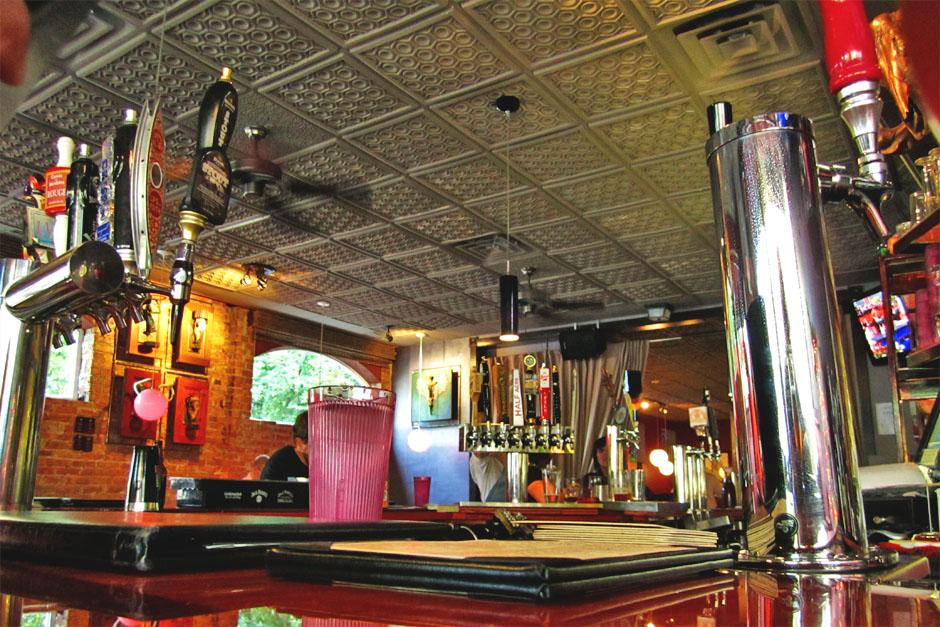 On the sandwich side, I can recommend the "Pork-a-licious:" a pulled pork sandwich brined in North Coast Pranqster in a beer/Swiss sauce, topped with ham and a pickle on a pretzel bun.  Pretzel buns could make a piece of asphalt delicious, so imagine what it does for beery porky cheesy salty goodness.
Now onto the burgers.  I have yet to have one I don't like. A favorite is the Slow Burn: Belhaven Scottish Stout sauteed chilies and onions with bacon and white cheddar.  If offers spice, but it won't melt your face off.  It heats your palate the way the name of the burger indicates; slowly with a building heat that only helps to intensify each layer of flavor.
Then there's the Edmund Fig-Gerald; Edmund Fitzgerald Porter, fig and bacon relish with sauteed onions topped with a thick slab of goat cheese.  This is my second favorite burger on the menu.  You get the great salty, grilled taste of the thick all-natural beef patty which contrasts with the sharply sweet flavor of the fig and bacon relish.  Combine those flavors with the bitterness of the goat cheese and you'll likely pass out.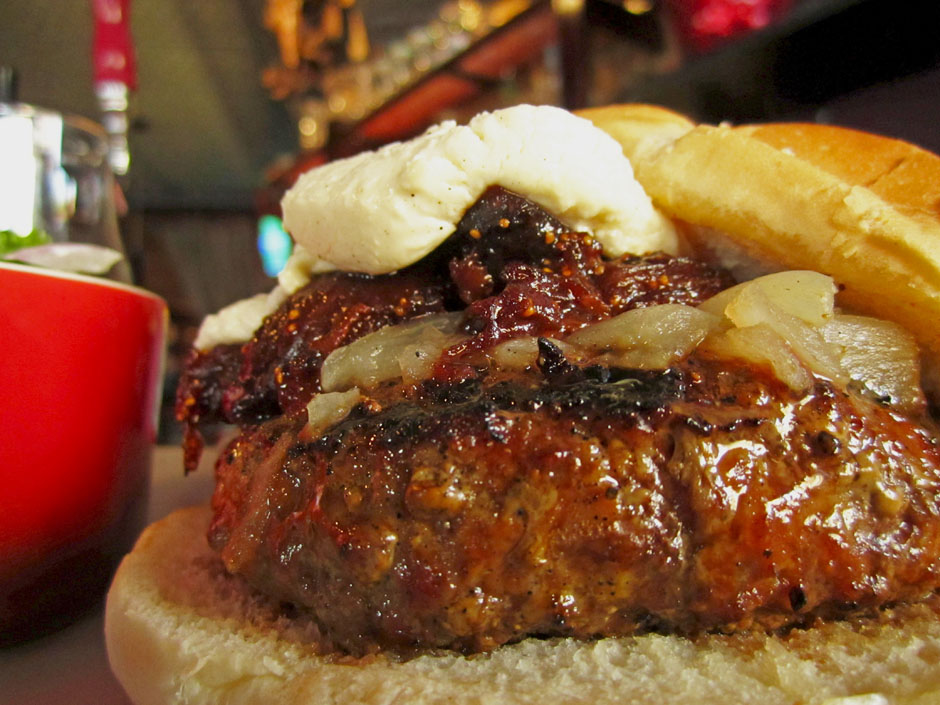 Lastly, there's my favorite burger on the menu: the Left Coast Burger-Reuben.  Coleslaw (yum), swiss cheese (yum) and a secret sauce (holy crap yum) on a pretzel bun (see asphalt comment above).  I don't know what's in that secret sauce, but it makes the burger.  It definitely mimics a thousand island dressing to keep with the theme of a Reuben sandwich, but it has some kick and ultimately provides the bridge between the flavors of the coleslaw and the beef.  It's a bit messy to eat, but it's worth it.  If you go to the Bad Apple, try it.
If you aren't sure what you'd like to eat because you think I am an idiot and don't trust my recommendations, don't worry.  The staff is extremely friendly and is great with matching personal tastes to items on their menu as well as their beer list — I have yet to experience bad service in the two years their doors have been open.
Most importantly, I feel welcome even though I don't have a single tattoo or an ironic mustache; I can take my parents here (they love this place) when they visit from Door County without worrying about it being pretentious or overrun by 21 year old punks.  It's a friendly, neighborhood joint where everybody knows your name and they're always glad you came. You wanna be where everybody knows your name (ha ha).